I
t was on the 5 o'clock ferry from Aurora, heading back to the Outer Banks, when a conversation took place that encapsulated the divergent viewpoints I had heard during my 450-mile trek combing the coast.
The passenger in the adjacent white pickup truck leaned out his window, asking where I was going, and I told him about my adventure talking with local folk about oil drilling. A spigot opened.
"Drill!" he exclaimed with gusto. Why not? Better than buying it from the Mideast.
He and the driver next to him, a dark-haired younger man, worked at PotashCorp, a large phosphate-mining operation in Aurora in Beaufort County on the Pamlico River.
After a week of reporting, I had tucked my notebook away in a safe place.  I could tell that the men would be spooked ("A reporter? I'd better shut up," said one.) if I pulled it back out and started taking notes.
So for the rest of the 30-minute ride, I just listened and watched.
The thing is, he continued, we need fuel, so why not get it here and keep it here?
But what if there's a spill? the driver interjected. It'll ruin fishing and spoil the coast. I don't like the idea of drilling, he said firmly.
The older man scoffed. We're all doomed, anyway. All that stuff they're doing – the drilling, the fracking, the pumping – the Earth is going to go up in flames one day, just like the Bible says. So we might as well get the oil while we can.
To that, the younger man shrugged and shook his head silently while his friend talked on.  Soon, the ferry approached its terminal in the Bayview community and the conversation ended as abruptly as it began.
Unpredictable Responses
From Corolla to New Bern, winding from outer to inner banks on the northern half of the N.C. coast, people's opinions on the prospect of drilling for oil off their beaches – as with these two men returning from working at a mine all day – reflected their life and work experiences and their relationships with family, community, government and the environment. There was no consistent or predictable response: People who made their living on the water were as likely to favor drilling as not. Remarkably, despite the controversial subject, only one person in the three dozen or so I approached declined to talk.
Some viewed spills as a necessary risk; to others it was an unacceptable, needless threat. But a number of folks – even those whose paychecks were dependent on happy tourists – were of two minds: fearing pollution but impatient with not-in-my-back-yard or NIMBY attitudes and wanting the purported jobs and local revenue drilling could bring.
"I think it's like a lot of technology – it's a double-edged sword," said Sharron Frink, a novelist who lives in Kill Devil Hills. "You have to be realistic. You can't live in a fantasy world where everything is perfect."
Frink, a middle-aged woman with a soft, South Carolina drawl, said the income from drilling could be used to build new bridges and other infrastructure. "I'm pragmatic about the whole thing," she said. "You want oil. It has to come from somewhere. And I don't know anyone who's willing to give up their SUVs."
Manufacturing Vacations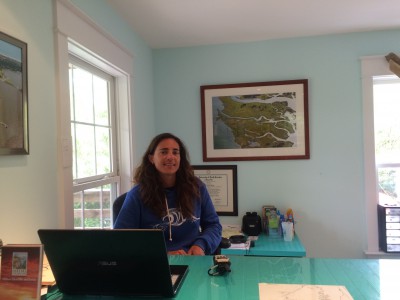 In Corolla, where I started my jaunt, those I spoke with were adamantly opposed to oil exploration in the Atlantic.
A late bloomer to tourism – the first hotel was built in 1995 – Corolla today provides about $10 million annually in occupancy tax revenue and 55 percent of the tax base to rural Currituck County.
Despite its abundance of "McMansions," Corolla still has historic charm and wide, beautiful beaches.  Unlike much of the Outer Banks, it has a tiny year-round population and is essentially closed in the winter.
Tucked off the tree-lined back road through the old village, kayaks and bicycles were visible in the yard of Coastal Explorations, an outdoor adventure business owned by Hadley Twiddy, one of the community's rare locals.
"I feel like if there is an oil spill, it's not going to be isolated. It's going to be spread out," said Twiddy, a young woman with long dark hair. "It's still not safe. It's hard for them to tell us there is no risk when we can see the risk in the news."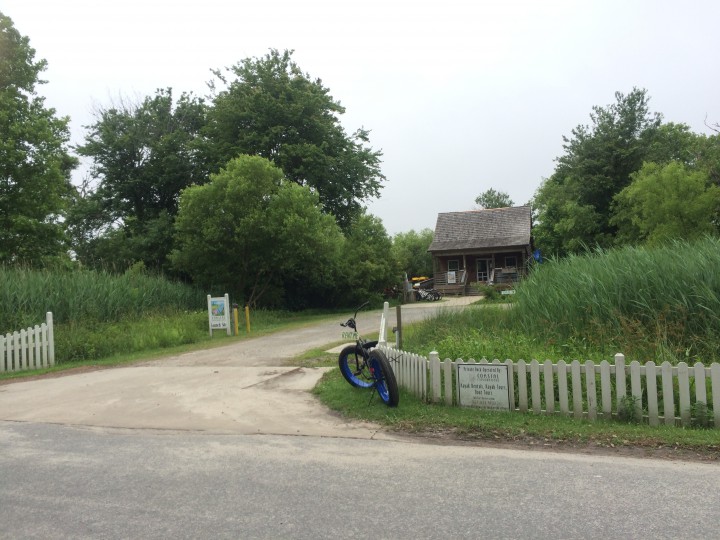 To Twiddy, oil drilling is anathema to a place that attracts visitors by the millions for its environment. "If tourism fails here, we have no leg to stand on," she said. "On the Outer Banks, there is no alternate industry. We manufacture vacations."
If tourism fails here, we have no leg to stand on. On the Outer Banks, there is no alternate industry. We manufacture vacations.
Hadley Twiddy, Corolla
When I strolled into Corolla Real Estate, broker Debbie Price was intently working at her computer, but she couldn't resist giving her opinion on the subject.  "I think that it jeopardizes one of our most valuable natural resources – which is the beach," said Price, an Outer Banks resident since 1976.  "It jeopardizes the livelihoods so many people on the Outer Banks, and it jeopardizes the investments here in real estate, basically from all over the country. And there are a lot of people who invested a lot of money here."
Moving to the bustling main street, I stopped at Corolla Surf Shop in Corolla Light shopping plaza, where Phil Clayton was able to opine between customers. Clayton, 26, a resident of South Swan Beach, a nearby off-road community, said offshore drilling is a hot issue for his generation.
"Most people in my age group," he said, "are kind of on the liberal side and are against it."
A surfer as well as a trained geologist, Clayton said it makes no sense when the risk of a spill is weighed against the minimal advantages to the state.  "I totally don't want oil drilling out there," he said. "It's important to me that our coastal economy stays with the tourists."
Heading down N.C. 12 toward Dare County, I pass elegantly landscaped subdivisions and a stream of traffic coming north. On every Saturday and Sunday in the summer, traffic on this two-lane road – the only access to Corolla – will be bumper-to-bumper.
Southern Shores: Trees and Activists
A few miles farther south, I'm in Southern Shores, the first planned community on the Outer Banks, also notable for its tree-shaded neighborhoods, as well as its educated, activist citizenry.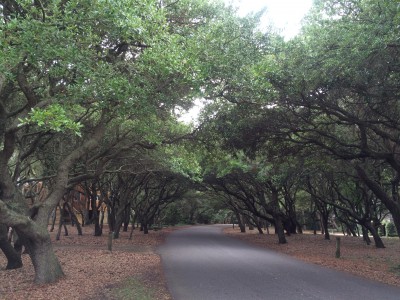 Ursula Bateman, 71, who has lived in the town with her husband for 22 years, is a vocal opponent of offshore oil projects, especially considering the powerful currents and weather conditions off the Outer Banks.
"If we really need it – fine," she said about oil. "But let's have it done where it's very, very safe. They're constantly having accidents with it. There are other places they can go. It should not be the ocean."
Long-time Outer Bankers like Bateman are well-schooled in opposition to oil drilling, with the community having fought off proposals to drill exploratory wells 45 miles off Cape Hatteras, one in the late 1980s from Mobil Oil Corp., and another in the 1990s from Chevron USA.
A recent federal meeting in Kill Devil Hills drew a record crowd of Outer Banks residents, nearly every one opposed to drilling.  But on Hatteras Island, with nearly 50 miles of beach within Cape Hatteras National Seashore, people are already exhausted by struggles with the government and environmental groups over beach driving, beach nourishment, bridge and road projects and inlet dredging, on top of the continual challenges of fisheries regulations and storm damages.
"I don't see why they need any more issues around here," said L.T. Eure, a Southern Shores resident who services pools in Rodanthe, Waves and Salvo, communities to the south along the banks.
Chatting from his truck outside Island Convenience in Rodanthe, Eure, 56, said that during his 20 years as a shipbuilder in Norfolk, Va., he saw the corrosive effects of saltwater on pipes. Offshore, that leads to leaks or spills. "There's always a mistake – inevitably," he said.
Oil Derricks & Tar Balls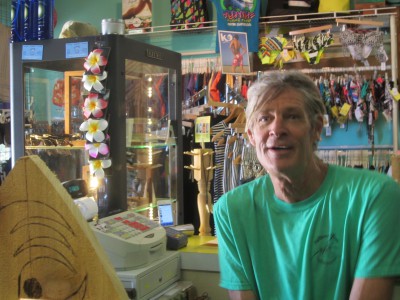 Richard Byrd, a 60-year-old surfer who works at Rodanthe Surf Shop, recalls how ugly oil derricks and tar balls spoiled the beach at his former home in southern California.
"This place, we have enough problems keeping the road open when there's a storm," he said. "If the beaches were shut because of oil, we'd be done for. Economically, an oil spill would ruin this place."
Byrd, who has the classic lean surfer build and long, sun-streaked hair, also dismissed promises of jobs. The expertise required for offshore projects, he said, would result in a work crew that included "not a soul from around here."
One of the special things about Hatteras is its unspoiled environment, making a dirty industry like oil especially counterproductive, said another shop owner. And the recent oil spill on the California coast proves that the risk is real.
"It's a horrible idea," said Jeanie Taft, owner of Sandcastles in Avon. "And it's very frightening to think of what happened in Santa Barbara happening here."
Seismic surveys are expected to provide updated details on offshore Atlantic deposits.  Although only one lease will be offered in the 2017-22 Atlantic lease, it is not yet known where that will be.
"What if there was an accident?" said Sharon Flowers, 60, chatting after her shift at St. Waves Seafood & Steaks in Waves. "There's so many wildlife who would be killed."
Despite the dire consequences of a spill, she said drilling is not a topic among residents who are jaded by the heavy presence of government on the island. Many have adopted a "why bother?" attitude about speaking out, she said.
"To be honest, if it comes up, people just shake their heads," she explained. "It's throw up your hands and look the other way."
But not every islander is against drilling and some are on the fence.
Gracie Gray, 60, owner of the Sands of Time Campground in the historic village of Avon, said it's hypocritical for people who drive everywhere to oppose drilling. Then again, she added, strict management of protected birds has already limited beach access during certain times of the year, so it would be bad if the effects of oil drilling added to the island's woes.
"We love birds, except one bird lays an egg and the whole beach is closed," said Gray, who moved 40 years ago to Avon – her parents' native home – from Norfolk, Va. "Yeah, if oil spilled, it would kill us. But it would be fast death, not an egg here and an egg there."
No Problems With Drilling
Heading through Avon, except for a Dairy Queen and a Food Lion grocery store, there are few chain stores on the island, a point of pride for islanders. There were also a number of shuttered businesses, which may explain why some residents view an oil project as an economic booster.
"I don't have a problem with drilling – there's only been one or two spills," said Robert Henry, 67, at Red Drum Service Center in Buxton, just north of the Cape Hatteras Lighthouse.
Yet, Henry agreed that an oil accident could hurt the island.
"I'd just as soon not have it out there," he said, "because there's so much available on land. This is a precious resource. This place is barely holding on by a thread because of those damn tree-huggers."
Over at Pop's Raw Bar, a popular local hangout in Buxton, two gents sitting next to each other at the bar did not see offshore drilling as a threat.
"That's the American future," said Kevin Morris, owner of Cape Wood Campground in Buxton. "It takes it away from the Arabs. I don't have a problem with it."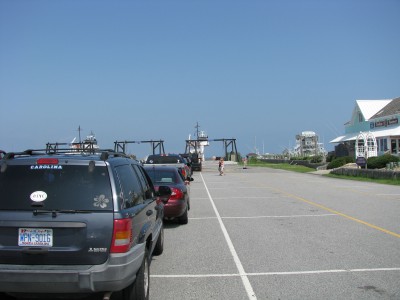 Ollie Jarvis, owner of Dillon's Corner, a tackle and gift shop in Buxton, and a resident for 65 years, seconded his friend's assessment. "I think it's great for the economy of the United States to not depend on foreign oil," Jarvis said. "Maybe it would help bring more people to the island if the gas prices were cheaper. The wells offshore, I mean, you've got to take the good with the bad."
Traffic was slow-going on two-lane N.C. 12 through Frisco and Hatteras, but it's at the ferry dock at the tip of Hatteras where tourism makes itself most evident. Since I was catching the free ferry to Ocracoke Island late on a Sunday afternoon, I knew that the crowds wouldn't be bad because weekly renters had just arrived. In the height of summer on mid-week day, the line of vehicles waiting to take the one-hour trip can back up for miles.
I was in one of the first vehicles in line, and boarded the vessel just as the evening sun started tinting Pamlico Sound pink.  Sunburned tourists walked to the rail to photograph one another in front of the panorama of water. As the ferry churned toward Hyde County, I took out my veggie wrap and watched the show.
Thursday: Back on the mainland