OAK ISLAND – Pat Bruning can pretty much bet she will not be able to gather oysters off the shores of Oak Island after a good rainfall.
"I like to go oystering," she said. "I'm close to Lockwood Folly and so many times it's closed because of the downpours. I get to do it once a month if I'm lucky."
Much of the stormwater runoff on this Brunswick County island goes directly from the roads into the surrounding waterways, including the Lockwood Folly River.
Bruning has joined others who want to see that change. She has volunteered to be part of a project to reduce the amount of stormwater pollution flowing into the river and its inlet.
The project, a collaborative effort between the N.C. Coastal Federation and Oak Island, is to design and install an affordable stormwater system that diverts runoff from natural waterways and, instead, into the ground.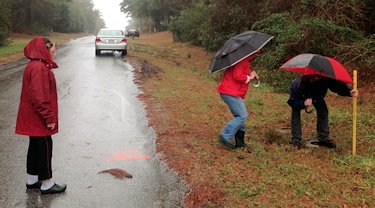 Volunteers monitor stormwater along 18th Street at Oak Island. Photo: Mike Giles
"Since we've been doing a great deal of work in all of the Lockwood Folly watershed it seemed like a good time to scale up our approaches to reducing stormwater pollution," said Tracy Skrabal, coastal scientist and manager of the federation's  regional office in Wilmington.
The federation in January 2014 received a state grant from the N.C. Division of Water Resources for nearly $115,000 to implement a project that will examine affordable ways in which the town can reduce its runoff into waterways.
One of the project goals is to reduce pollution going into the waters around the island by at least 200,000 gallons during a one-year period.
An advisory committee of town officials and volunteers has prioritized which streets — six in all — where stormwater reduction measures will be put into place and evaluated through the end of 2016.
Half of the streets selected for the project dump into Lockwood Folly. The project calls for taking existing swales at these streets and modifying them by making them deeper, bigger and possibly building up berms to slow runoff.
The other streets where stormwater reduction measures will be implemented lead to Davis Canal, which runs through the middle of the nearly 12-mile-long island.
"These will be more street-end measures," Skrabal said. "They'll be much more like small rain gardens, but again the idea is to be fairly inexpensive, fairly low-tech. The idea is if these measures are successful then the town can incorporate these practices in what they do as maintenance on the side street swales so eventually you could apply these techniques throughout the whole town. We're really looking at something that can be applied to any town."
Such methods would tie into a broader effort to reduce pollution sources in natural waterways.
Brunswick County has since 2005 been looking into economical ways to restore water quality in the Lockwood Folly watershed.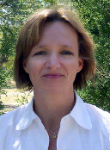 Tracy Skrabal
In December 2008 the county's board of commissioners adopted a voluntary low-impact development ordinance manual to help protect the watershed from new pollution sources.
This is a step in the right direction, environmentalists say, but not one that deals with existing runoff sources.
The federation has been training a group of volunteers, including Bruning, to monitor the effectiveness of the stormwater modifications once they're put into place later this year.
"We'll have them measuring rain and taking photographs during these rain events so we can see whether the water is infiltrating rather than flowing past these modifications we're doing," Skrabal said.
The volunteers did their first pre-monitoring during a recent heavy rainfall event.
"It was pretty astonishing on Sunday (Jan. 18) when we went out at 7:30 in the morning," said Rosanne Fortner, one of the project volunteers. "Water was just rushing down the street."
Fortner, who is also co-chair of the Oak Island Preservation Society, said stormwater is a "pretty serious issue" for the town.
"There is a tremendous amount of water that stays on the surface for a long time after it rains," she said. "I think what this project will demonstrate is a measurable need to ditch along the sides of the roads so that the roads will drain appropriately. If this demonstrates that there are issues on some of the streets maybe they can do some quick determinations of which ones are the worst."
Fortner was a professor working in Ohio State University's School of Environment and Natural Resources where she taught about water issues in Lake Eerie before she moved to Oak Island more than 10 years.
She said she volunteered to take part in monitoring this project, in part, because it gives her an opportunity to work in the field instead of a classroom.
"We're all learning together," Bruning said. "I have had a home on Oak Island for over 40 years so it's very precious to me. If we can stop some of this runoff and keep those oyster beds open longer I'm all for it."