WILMINGTON — With all of the required permits in hand, the N.C. State Ports Authority is pressing ahead with plans to build wood-pellet export facilities at both ports.
"The permits are complete and now the project is at the State Construction Office," said Laura Blair, the ports' senior director of external affairs.
With that office's stamp of approval, construction of exporting facilities, including storage domes, can begin at both ports, where tens of thousands of tons of wood pellets will be shipped by rail from pellet plants in Eastern North Carolina and exported to Europe.
Authority officials have not determined when operations will begin in Morehead City, Blair said. Operations at the Wilmington port are expected to start in the fall of 2015.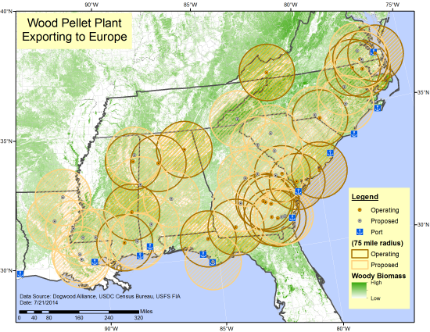 That target date comes two years after the Council of State approved a lease agreement between the ports authority and Enviva Holdings LP to build a $35 million wood pellet export terminal in Wilmington. The project there required the ports authority obtain a major modification to its Coastal Area Management Act Permit, which has been approved by the state.
Enviva, a Maryland-based company, plans to export 1 million tons of wood pellets a year from two mills in southeastern North Carolina.
Gov. Pat McCrory in October announced that the company will qualify for up to $1.7 million in state tax incentives for creating a reported 160 jobs at new mills in Richmond and Sampson counties.
California-based International WoodFuels is in the process of building a wood-pellet manufacturing plant in Sims to produce 285,000 metric tons of wood pellets a year, all of which will be shipped through Morehead City.
Wood-pellet manufacturing in the South has been a fast-growing industry as European utility companies, under pressure from policymakers, are cutting greenhouse gas emissions. The companies get credits for using wood pellets. Many of the pellets are made in the Southeast United States.
Both the wood-pellet manufacturing industry and the ports authority have faced resistance from environmental organizations, including Dogwood Alliance, a group that argues wood-pellet production depletes forest resources.
The alliance is actively leading a campaign to save southern forests and urging European policy makers to turn to other energy alternatives such as solar and wind.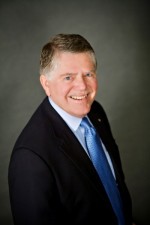 Steve Mueller
"Companies like Enviva are destroying our Southern forests for the benefit of big power companies in the UK and across Europe," Adam Macon, the alliance's campaign director, stated in a release. "The accelerating destruction of forests is disrupting the critical services forests provide such as wildlife habitat, clean drinking water and protection against storms, while also threatening the quality of life and the long-term economic viability of our coastal communities and existing forest-dependent businesses."
Forests in the southern U.S. are disproportionately harvested for wood-pellet exportation to Europe, according to the organization. The alliance officials also say wood-pellet production for bioenergy initiatives could drastically deplete these forests.
WoodFuels President Steve Mueller refutes such statements, saying his company uses only low-quality wood remnants left behind by logging companies.
"Logging is a major industry under very precise obligations and I see no prospects of the growth of the manufacturing of pellets of waste materials as being a bad thing for the state of North Carolina," he said. "The loggers are already there with or without WoodFuels, with or without Enviva. When timber is harvested two things come out. There will be round logs coming out and there will be thinnings coming out. All the tops and limbs are stripped off and go on a truck. Very little is ever done with them. What we can do is take that material, chip it there on site, put it in a truck and take it to our plant."
Pellet production itself does not harm the environment, he said. It does not create discharge into waterways, said Mueller, who previously owned biomass power plants throughout the country.
He's had to prove to his European clients that the pellets his company makes come from sustainably managed forests.
"And, I had to have a carbon footprint to prove that I wasn't spending a billion dollars on utilities to make woodchips," Mueller said. "We only use electricity to run electrical motors and rail has a much better carbon footprint. It works well for us at the port because the infrastructure is already there."
The Dogwood Alliance, in a 2012 report, documented numerous examples of whole trees, and not tree tops, branches and other logging "remnants," being stored and used at wood-pellet plants in the Southeast.
The export facility in Morehead City will handle up to 600,000 tons of pellets from the WoodFuels plant in Sims, a small Wilson County town. Pellets will be shipped to the Drax Group, which operates the UK's largest power station.
Mueller said his company spent about a year studying various locations in the state where, in existing forestry operations, more wood pulp is being grown than being removed. This also creates a new market for landowners who do not get money from logging companies for timber residuals.
"There's nobody in my 50-mile radius that owns much more than 500 acres," Mueller said.
WoodFuels anticipates shipping its product out of Morehead City in mid-2016.