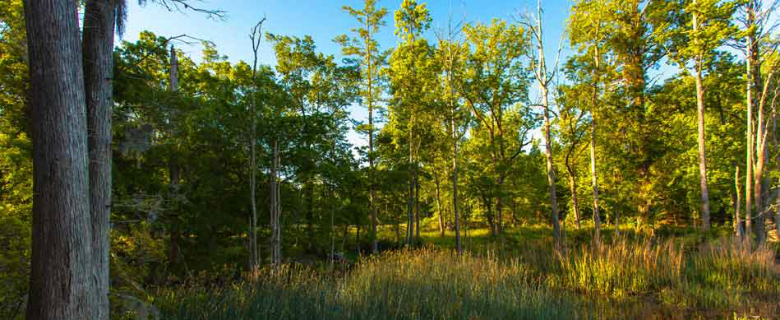 This is one of the kayak launches in River Bluffs, a development near Castle Hayne that sits on the Northeast Cape Fear River. The N.C. Coastal Federation presented its developer, Burrows Smith, a Pelican Award for designing the site using low-impact development, which reduces the volume of polluted stormwater runoff entering and degrading coastal water bodies. Photo: River Bluffs Living
WILMINGTON — Burrows Smith isn't your typical developer.
"In the development world, they want to do things they did last year," he said. "I like to do things that make sense, and if it's more economical, then it makes sense."
Finding better ways to control the poisoned runoff that is polluting our waters is something that makes sense to Smith. His efforts won him a Pelican Award this year from the N.C Coastal Federation. The annual awards are meant to highlight exemplary efforts to protect the coastal environment.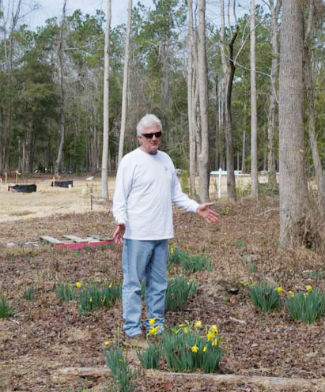 Burrows Smith won a Pelican Award for promoting and using low-impact development at his 313-acre development on the Northeast Cape Fear River near Castle Hayne. For Smith, using LID made sense because it was better for the environment and saved money. Photo: River Bluffs Living
Smith received his award for the low-impact development, or LID, principles he has applied throughout the design of a 313-acre development on the Northeast Cape Fear River near Castle Hayne. Called River Bluffs, because it sits on one overlooking the river, the development is expected to feature 193 houses in its first phase and a 143-slip marina on the river. Though he initially approached the project with the idea of employing conventional systems for stormwater runoff, a LID conference he attended in Raleigh in 2010 convinced him that using more natural methods was not only the right thing to do, but it would save him and his partners thousands of dollars.
"Man, I thought, our site would be perfect for this," he said. "I told the engineers to scrap the plans, we were going LID. We threw all the plans in the trash and started over."
Smith was no stranger to starting over. A native of Wrightsville Beach, and graduate of the University of North Carolina at Chapel Hill, Smith returned to Wilmington  and formed Burrows Smith Construction in the early 1980s. In 1988, he merged with A.C. Skinner to form Skinner-Smith Construction, specializing in the construction of sub-divisions in New Hanover County, including Masonboro Landing, Masonboro Forest and Porter's Neck, to name just a few. His other development projects included Sea Watch at Kure Beach, Wrightsville Sound Office Park and Plantation Landing.
"I sold out of everything in '05," he explained. "I felt like there was going to be a recession, which turned into a depression."
He started over, two years later, when he was approached by property owners, unfamiliar with the mechanics of developing property, about developing the Castle Hayne land. He wasn't exactly reluctant to get back into the business, but it took a while.
"Someone recommended me, I was interviewed, and we hit it off," he said. "It took me about a year because I wasn't in a big rush to go to work for somebody. They bought the property in '06, I got involved in '07, and around '08, we started engineering the site."
He approached the River Bluffs development, as he had done in the past, looking to conventional means of curbs, gutters and ponds to divert and collect stormwater runoff, until he realized that a traditional wet pond would force him to cut down large sections of the property's forest and pay for the removal of acres of sandy soil, perfect for the natural absorption of excess rain.         
The meeting in Raleigh offered developers solutions to the often difficult and time-consuming task of complying with a variety of federal, state and local regulations. It convinced Smith of the benefits of LID.
"It is," said Smith in a River Bluffs promotional video, "kind of a throwback to the way we used to do roads and we'll actually have no runoff into the river, which makes us very unique."
Though LID ideas are not new, they have encountered some resistance from some old-school property developers, in large part, because developers are geared toward doing things in a familiar way. What's different about River Bluffs is the "all-in" mentality fostered by Smith. He hopes the River Bluffs will show other developers in the region that LID concepts work at controlling runoff and save money. As one of many examples, Smith figures that River Bluffs roads, absent the conventional curbs and gutters, will save $500,000. That, he said, should make developers sit up and take notice.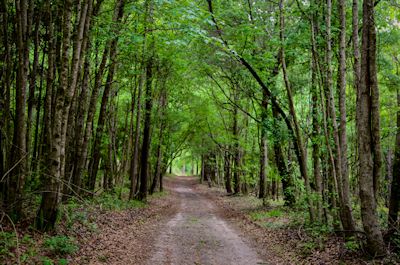 Other LID concepts were incorporated in the design of the development from the start. Houses will feature pervious driveways that allow stormwater to drain into the ground and cisterns that collect rainwater that will automatically irrigate lawns. Native plants will be used for landscaping because they require less water and fertilizer, and downspouts will direct stormwater to grassy areas, rather than to the streets. The last line of runoff defense will be roadside swales that will collect any polluted runoff before it reaches the river.
Earlier this year, The Wilmington-Cape Fear Home Builders Association announced winners of its 28th annual Parade of Homes and introduced a new Energy Efficiency Award, sponsored by Duke Energy Progress. The River Bluffs Development Corporation's Covington model won the award, which was based on its final Home Energy Rating System Index score.
Interviewed for a River Bluffs promotional video, Bill Hunt, a professor with N. C. State University, praised Smith's contributions not only to the site but to the future of LID projects as well.
"Burrows had a lot of stick-to-it-iveness to make sure that this went through," Hunt said. "What's been done (there) is that they've taken advantage of a lot of the natural infiltration that existed on the property.
"Certainly, because of the trail-blazing nature of this development, and as big as it is," he added, "I think other developers can begin to feel a little bit more comfortable about the amount of red tape and extra review time that goes into having some more innovative infiltration-based technologies employed on a site."
Multiple contractors are involved in building the houses, and according to Smith, there has not been a lot of resistance to changes brought about by strict implementation of LID practices.
"A couple of the contractors had done things like this before," he said, "(and while) there was a little bit of belly-aching about things like pervious driveways, all they really care about in the end is selling the houses."
Smith grew up in Wrightsville Beach and loved fishing and getting oysters.  "I wouldn't call myself an environmentalist," he said. "I'm more of a practical person. I'm not carrying a (North Carolina Coastal) Federation banner, but I do care about the environment."