Sixty years ago this week, the most powerful hurricane to strike North Carolina devastated much of our coastline. Hurricane Hazel remains one of the benchmark coastal storms against which all others in the state are measured. This is the last of three stories that relive Hazel with people who lived through it and examine the lessons it taught us. This article was first published in the autumn issue of Coastwatch magazine, a publication of North Carolina Sea Grant.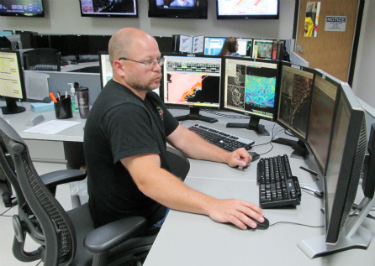 Steve Pfaff, warning coordination meteorologist with the National Weather Service, says speed was the key to Hurricane Hazel's sustained violence. The faster the storm moves over land, the less its wind can be disrupted, he says. Photo: Pam Smith
Most North Carolinians who lived through Hurricane Hazel — the only recorded Category 4 hurricane to make landfall in North Carolina — vividly recall the destructive force of the 1954 event as a major benchmark in their lives.
"People who were just four or five years old when Hazel struck seem to remember every detail of that awful day in their lives. Hazel was that terrible. She made a profound impact on their lives," says Steve Pfaff, warning coordination meteorologist with theNational Weather Service in Wilmington.
Sixty years later, the National Weather Service still considers Hazel a meteorological anomaly — a destructive force that defied conventional wisdom and science. Born in the tropics, the storm struck the Carolina coast at 10 a.m. on Oct. 15, 1954. The storm reached the Canadian border at 10 p.m. and finally dissipated in the Arctic on Oct. 18.
Hazel defied expectations by holding her fury together long after initial landfall. National Weather Service experts say speed was the key to her sustained violence. Racing as fast as 50 miles an hour, she outran the normal weakening process. The faster the storm moves over land, the less its winds can be disrupted, Pfaff explains.
He points out that forecasting weather, communicating in formation to the public, emergency management and building codes for coastal areas all have changed exponentially in the past 60 years. These modifications were designed to save lives and property.
Back in 1954, volunteer observers such as the late Jessie S. Taylor of Southport, received, recorded and conveyed daily weather data from the U.S. Weather Bureau to the public. On Oct. 14, 1954, the then-75-year-old Taylor noticed Hazel's unorthodox turn and hoisted storm flags to the top of the lighted waterfront signal tower to warn ships and local residents of the impending danger.
For More Information
Visit
Retrace Hurricane Hazel's path and read first-person accounts on the National Weather Service web site. Follow Hazelel-related posts on social media using #Hazel60th.
Read
North Carolina's Hurricane Historyby Jay Barnes, published by the University of North Carolina Press.
Hurricane Hazel in the Carolinas by Jay Barnes, published by Arcadia Press.
Watch
Focal Point: Hazel, a WRAL-TV documentary from the storm's 50th anniversary, including a link to a 1954 WPTF radio broadcast.
In those post-World War II years, the science and technology used in forecasting was rudimentary compared to what is available today. Reconnaissance aviation was just beginning to blossom, radar was in its infancy and communication was sparse.
"Today, forecasting tools are precise and immediate. And, we have multiple means of communicating reliable and useful information. The Weather Service partners with media professionals and emergency managers to help raise the public's situational awareness — and save lives," Pfaff says.
Twenty years ago when Pfaff began his National Weather Service career, it took five to seven minutes to gather information, type out the data and send reports to media outlets. Now, it takes a matter of seconds, he points out.
Much has changed since Hurricane Hazel, including state building codes for coastal construction, adds Spencer Rogers, North Carolina Sea Grant coastal construction and erosion specialist.
The widespread destruction of grade-level structures close to the ground was a wake-up call for North Carolina, Rogers explains. In the mid-1960s, following the lead of Florida's Miami and Dade County, North Carolina adopted coastal building codes requiring elevated structures on open pilings to accommodate storm surge.
The code was updated again in 1986, with input from Rogers and Sea Grant researchers. The change required pilings to be buried 8 feet into the ground and rise 8 feet above ground to address erosion that could undermine pilings.
"If a storm like Hazel hit the coast today, there would be significantly less damage to buildings because of revised building codes," Rogers points out.
"But, even the most sturdy and code-compliant building does not make it 100 percent hurricane proof. Coastal residents should heed messages from the weather service and local emergency managers," he advises.
Have a Plan
Having a family evacuation plan in advance is essential, continues Jessica Whitehead, Sea Grant coastal community hazards adaptation specialist. She is working with stakeholders in Hyde County to identify and address coastal hazards threatening their community.
"Awareness is the best defense. Have a plan. Then get out of harm's way. There is no such thing as 'just' where hurricanes are concerned. Even 'just' a Category 1 carries the threat of wind, surge and possible flooding," Whitehead points out.
Burrell Montz, chair of the East Carolina University Department of Geology, agrees. "I would like to see the word 'just' erased from the public's perception of weather-related hazards. Often people don't take into account how large an area a storm may cover, or that a lingering system may cause widespread and dangerous flooding."
Hurricanes also pose threats to people living along the sounds, as well as oceanfront residents.
Currently, Montz is conducting research that is funded by the National Oceanic and Atmospheric Administration, National Weather Service and New York and New Jersey Sea Grant programs. She is working with National Weather Service and emergency management professionals to review and adapt forecasting products and messages that help people understand the information and make life-saving decisions.
She worries that new residents to coastal counties from areas that are not prone to tropical storms or nor'easters may be less likely to understand the seriousness of severe weather watches and warnings.
Montz has good advice to people in vulnerable areas that reiterates North Carolina Sea Grant research results: Know how to get reliable information and trust emergency managers' expertise.
For example, emergency managers know that bridges, which are the main evacuation route for many coastal areas, are not safe at certain wind velocities. Managers need to get people out sooner rather than later — and preferably during daylight hours.
"If emergency managers say 'go,' do it," Montz says.
Sea Grant is one of several organizations that is partnering with National Weather Service to recall the impact and legacy of Hurricane Hazel. Throughout hurricane season in 2014 — June 1 to Nov. 1 — workshops, conferences and town hall meetings are raising public awareness and prompting communities to be prepared long before a named storm is barreling toward the coast.
Like the names they are given, each hurricane is different, but preparations should be standard. It's important for people to know how to take care of themselves should emergency responders or disaster-relief teams be delayed.
"We have not dealt with a storm like Hazel for six decades, but we can't be lulled into complacency," notes Pfaff. "It's all about spreading the word, educating the public about the vulnerability of coastal communities."