WILMINGTON — Oil and gas exploration off the North Carolina coast will take center stage at an energy meeting here later this week.
The Thursday event will also include discussions about offshore and inland coastal wind farms and solar energy initiatives and a keynote address from Gov. Pat McCrory, an energy industry proponent whose presence at the summit is drawing skepticism from film industry-backers, including the city's mayor.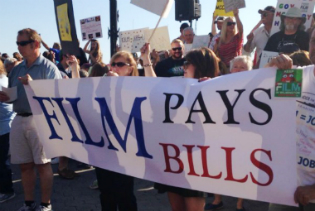 Over 1,000 people rallied in downtown Wilmington earlier this year in May to save North Carolina's film industry incentive program. Wilmington Mayor Bill Saffo says he is upset about the loss of this "clean" industry and will be attending the Coastal Energy Summit to see how the governor and the panelists answer the community's questions about new coastal energy initiatives. Photo: North Carolina Production Alliance
"I was pretty upset about the loss of the film industry for the state of North Carolina," Wilmington Mayor Bill Saffo said. "It was a clean industry. It was an industry that was growing and it was put out to pasture. It was one of the only industries that it seemed everyone here supported."
Saffo and other film industry supporters are reeling after state legislators earlier this year decided to overhaul North Carolina's film incentive program into a $10 million grant program.
The program stipulates a $5 million project cap that will run through the first six months of 2015. The current incentive program does not have a cap and offers a 25 percent refundable tax credit on qualifying expenses exceeding $250,000.
McCrory did not call for the General Assembly to return to Raleigh for a special session on economic development, a last-ditch effort film industry proponents had hoped would present a different outcome.
For the past 30 years, the film business in Wilmington has blossomed into a viable industry, offering steady jobs, positive publicity and a niche for local tourism, advocates say.
"It's always been known to be a clean industry," Johnny Griffin, director of the Wilmington Regional Film Commission, said. "There's no smokestacks, there's no harmful effects. As far as the film industry goes I really don't know of people saying it's not a good industry for this area. The energy issue polarizes people."
The Greater Wilmington Business Journal is hosting the first annual Coastal Energy Summit, the purpose of which is to provide the local business community and leaders with information about new energy initiatives from industry professionals, said Rob Kaiser, the journal's publisher.
"The goal is to touch on as many energy related topics as we can," he said. "I suspect there are going to be tough questions for [the panelists] to answer because there are very diverging views."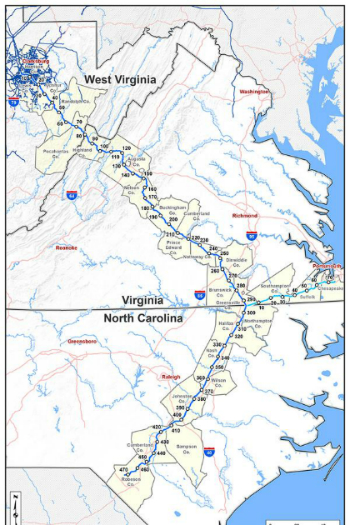 The blue-colored route is the proposed Atlantic Coast Pipeline, a 550-mile underground natural gas pipeline from West Virginia to southern North Carolina supported by Gov. Pat McCrory. Wilmington Mayor Bill Saffo is worried about Wilmington becoming a possible disposal site for wastewater from fracking operations. Map: Atlantic Coast Pipeline
The nearly seven-hour meeting will include a panel discussion on offshore oil and gas exploration and coastal and offshore wind farms. Panelists include representatives from the American Petroleum Institute, the Southeastern Coastal Wind Coalition, and N.C. State University's North Carolina Coastal Resources Law, Planning and Policy Center.
McCrory will speak during the lunch portion of the summit.
"The governor will talk about the importance of energy to North Carolina as well as our nation," Ryan Tronovitch, a McCrory spokesman, stated in an email. "He will touch on various forms of energy. At this point, that's all that I am able to provide you."
McCrory, who chairs the Outer Continental Shelf Governors Coalition, lauded the U.S. Department of Interior's endorsement earlier this year of seismic testing in Atlantic waters.
"This decision is the right step toward more jobs for North Carolina, particularly in our rural areas near the coast," McCrory said in a statement following the Interior Department's decision. "We have the technology and the environmental expertise to responsibly explore the oil, gas and wind resources off our coast. It's time the states be allowed to get off the sidelines and start producing jobs and energy for our economy."
Industry officials and some economists estimate offshore energy could bring thousands of new jobs to the state if these potential energy sources are found to be sustainable off the coast.
McCrory is also backing the $4.5 billion Atlantic Coast Pipeline project, a 550-mile underground natural gas pipeline from West Virginia to southern North Carolina. The governor's office says the project, which still needs approval from the Federal Energy Regulatory Commission, will create more than 700 jobs in the state during construction and about 50 permanent jobs once completed.
McCrory and fellow Ocean Continental Shelf coalition members, including the governors of Alaska, Louisiana, Texas, Virginia, Mississippi, Alabama and South Carolina, support federal legislation mandating revenue sharing from development of offshore oil, gas and renewable energy resources.
"Even though there's a possibility that there would be revenue sharing with the local communities and counties, what is the guarantee that we would continue to receive that revenue in the future," Saffo said. "We want to hear what the governor has to say and we want to hear what the industry reps have to say. There are some questions that I think the community is going to want to know. How long is this going to take and what are these jobs going to look like? How safe is it? If there is a problem who's going to pay for it? If there is revenue sharing how much is going to go to the local communities?"
McCrory signed a law in June lifting the state's two-year moratorium on fracking permits.
The Wilmington City Council last year unanimously voted to oppose any changes to the state law prohibiting wastewater disposal from fracking.
Saffo said he remains concerned about the area being eyed as a possible disposal site for wastewater from proposed fracking operations in other parts of the state.
"I intend to try and obtain as much information as I possibly can," he said of the summit. "We have to understand things are going to be produced and things are going to be made and people need jobs, but we want to do it in a safe and environmentally-friendly way. I just hope they do a good job in addressing those concerns."
For more information about the energy summit, visit www.coastalenergysummit.com