ELIZABETH CITY — It's just a narrow strip of a garden on the edge of a brick building, bordered by a Taco Bell parking lot, but Tavious Welch, wearing gardening gloves and armed with long-handled shovel, was tackling the planting like a seasoned green thumb.
After breaking the root ball of the plant apart — first with a screwdriver, then a borrowed knife — he placed it in the hole he had dug and gently patted it down with the edge of his sneaker, making a recessed circle with a little rim, the plant perfectly centered.
"I want to learn a variety of skills," says Welch, a 20-year-old Elizabeth City resident, smoothing the soil with the flat of the shovel. " I also like hands-on activity. I feel like hard work pays off."
But the upbeat young man and the modest rain garden are part of a much bigger story. In a partnership with the N.C. Coastal Federation, the N.C. Aquariums and N.C. State University's Cooperative Extension, the rain garden project has expanded the reach of the non-profit YouthBuild program into the natural environment.
With about 60 plants — 12 species of native perennials — planted alongside the YouthBuild building, the rain garden will help drain and filter runoff that would otherwise go into the waterways. A 550-gallon cistern at the back of the garden will collect rainfall that can be used to water the plants.
Cisterns and rain gardens are among the low-impact development, or LID, techniques to control stormwater. Such methods attempt to mimic the land's natural ability to absorb runoff.
Sara Hallas, an educator with the federation, said her group has partnered with nonprofit River City and its YouthBuild program for about three years. Students have traveled from Elizabeth City to the Outer Banks to help build the "living shoreline" oyster reefs at Jockey's Ridge State Park and at Durant's Point and helped install rains gardens at First Flight Middle School and Kitty Hawk Elementary School.
Hallas also provides classroom lessons about water quality and other coastal issues at the YouthBuild center.  Last year, the program won the federation's Pelican Award.
An additional grant is pending from the National Fish and Wildlife Foundation this year, Hallas said, to not only continue the program and LID training for YouthBuild students, but to expand it into the nearby community for local residents.
Welch, 20, along with 11 other young men, is currently working on earning a GED program at YouthBuild. The pre-apprenticeship certification, part of the Home Builders Institute's construction curriculum, requires 380 hours of training. A third of the time is spent in the classroom and the rest onsite learning carpentry, landscaping and other job skills.
Another YouthBuild gardener, Tevin Richardson, 18, of Elizabeth City, joined the program in November.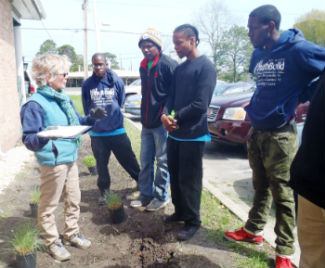 Kathy Mitchell, a N.C. Aquariums conservation horticulturist, reviews the planting design with, from left, student Jeffrey Smith, construction assistant Dendrae Thomas, and students Tavious Welch and Tevin Richardson. Photo: Sara Hallas
"I just have to say, that is a fantastic planting," Kathy Mitchell, conservation horticulturist with the aquarium, told Richardson, who beamed in response.
Mitchell, who helped design the garden, says the New England aster she was admiring is an example of an ideal plant for rain gardens because it does well in droughts and floods.
"You want a landscape that's going to be self-supporting and low maintenance," she says, "and that's why so many of our native plants that have adapted to the local environment are suitable."
Before the planting began last week, the students had to haul in about a ton of nutrient-rich soil, which was spread on the site so the garden was lower in the middle, directing runoff so it will drain through the soil and the plants. A row of decorative rocks was laid along the edge of the building's exterior wall to prevent grass from taking over.
Richardson says that before being accepted into the program, he was in was in trouble a lot and even was arrested once for a minor offense. But since studying and working in YouthBuild, he says that has changed.
"I like it because everyday, we learn something new," he says. "It's better than being in the streets or being home in bed. It's given me a change in perspective and a new look at life. I meet new people being here."
Run by River City Community Development Corp., YouthBuild, which started in Elizabeth City in 1999, is a national program focused on helping at-risk young people ages 16 to 24.  With a successful combination of education, job skill training, community service, mentoring and myriad support systems, YouthBuild has a proven track record of turning around troubled lives.
Angie Wills, the YouthBuild program manager, thinks it's more accurate to describe YouthBuild as a "youth transformation" program.
"They come in one way, and they leave completely different," she says.  "They don't go back and do the same thing."
Most of the participants in Elizabeth City come from low-income families, are high school drop-outs and are mostly men from minority populations. Some have had run-ins with the law.
Measurements of success for graduates, Wills says  include a 70.9 percent rate of placement in higher education or employment; a 60 percent rate of obtainment of a degree or a training certificate with a  72 percent retention rate for more than nine months; and zero percent recidivism rate with the same criminal offense.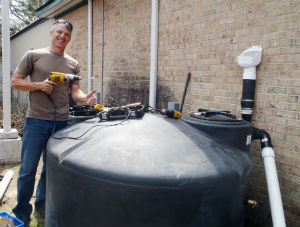 Mitch Woodward, outreach specialist with N.C. State University Extension program, was also a partner in this project. He led classroom and field training on low impact development and, as pictured here, helped install a cistern at the YouthBuild building. Photo: Sara Hallas
"Our program has become very effective in our community," she says, adding that it serves Perquimans, Gates, Pasquotank, Chowan and Camden counties.
Focused on guiding disadvantaged young people into secondary education and providing job skills training and help with job placement, the program reconnects them to their community through service — for instance, rehabilitating low-income housing. At the same time, the young folks are learning skills that foster confidence, self-respect and marketable job skills.
Dozens of YouthBuild students have earned community service hours by volunteering with the federation. The program is part of AmeriCorps, which provides an award that can help pay for college if students complete 450 community service hours in a year.
Willis says that the fruitful partnership with the federation blossomed after federation founder Todd Miller and River City CEO Lenora Jarvis-Mackey
sat together at a meeting a few years ago and saw great opportunity in combining forces.
"Ok, there has to be some synergy," Willis recalls about River City's initial reaction. "We have young people. They have projects."
Not only would the partnership benefit both organizations' mission, it expanded the horizons for the urban youth, many of whom had never or rarely been to the coast. By working on the coastal projects, they see, smell, hear and feel nature, and in the process gain an appreciation for its value.
"It's been wonderful because now we've been able to expose them to issues about the environment," Wills says, adding that the experience enriches understanding of their own surroundings.
"We have them take pictures of their neighborhood – good and bad – and then bring them back because we want them to become agents of change," she says. "So it's not just about fixing what's bad. It's about transforming the lives of others that they're around."
Participants in YouthBuild must apply to the program, Wills says, showing the self-motivation and "mental toughness" necessary to succeed.
"They're coming in on their own free will," she says. "We've found that if it's mandated . . . they're not team players, they're late; they're not attending, they're distracted."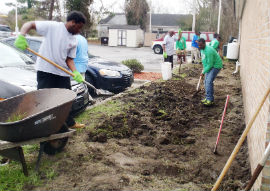 YouthBuild students prepare the site for the rain garden by excavating and grading the area to make a shallow slope. They removed about a ton of dirt. Photo: Sara Hallas
Those who are good candidates have to agree to random drug-testing and to commit their time to the program. In return, a comprehensive support system is provided, including help with managing child care, transportation and family issues, as well as teaching parental and general life skills like financial literacy.
Despite its proven success in job training and transforming troubled youth into productive citizens, the program received no federal funds last year, forcing the program to scale down from serving 60 students to only 20.
Wills says she is hopeful that a recent application for a $1.1 million federal grant will be approved so that the full program can be restored.
One graduate of the program, Arsenio Moore, 24, says that YouthBuild kept him from doing things like selling drugs to make ends meet. Moore is now working as a resource developer for YouthBuild, and plans to attend college to pursue a nursing degree, or possibly an airline pilot program.
Joe Shefflett, 22, who dropped out of high school in his junior year, secured his GED and a certificate in carpentry from YouthBuild. He credits the program for encouraging his talent in art, and he plans to get a college degree in graphic design.
"River City — they help you," he says. "They will get to the bottom of what's going on with you. They don't just help you with school work. They help you with life."
Hallas said the YouthBuild rain garden was paid for by a grant from the Conservation Fund's Resourceful Communities Program, Creating New Economies Fund.  LID technical training was provided by Mitch Woodward, an area specialized agent for Cooperative Extension.