CASTLE HAYNE – Like other developers, Burrows Smith used pipes, ponds and other conventional techniques to direct and control stormwater runoff on his projects. But he's made the switch to a relatively new approach that attempts to mimic the land's natural ability to absorb rainfall. He's happy he did and next month will tell a big roomful of people why.
Smith is likely to tell people at the N.C. Low-Impact Development Summit in Raleigh on March 26-27 that using LID, as it's called, is not only good for coastal waters, but it is often good for the developer by saving him money. He'll talk about the real and perceived obstacles of implementing LID and about the money he has saved using simple techniques known to control runoff.
The two-day meeting will bring over 250 people together to share success stories on residential, commercial and public LID projects, and the latest information on LID tools and standards.
"I look at [LID] as a tool," said Smith, who's been specializing in the construction of new developments in New Hanover County for 30 years. Most of those years were spent building project that relied on conventional techniques to control stormwater, now the largest sources of water pollution along the coast.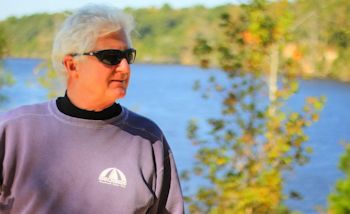 Developer Burrows Smith has learned that low-impact development is good for the environment and his pocketbook. Photo: River Bluffs
In the 1980s, curb, gutters an ponds became the way to develop, Smith said. "Everyone started putting in wet ponds, and we thought that was the way to do everything," he said.
These conventional systems have become ingrained in the designs of developers, engineers and regulators. LID is a new tool in the box. "If you've been using one type of screwdriver and a wrench you're whole life, and all of a sudden I say, 'Well, you can use these other tools to do the same deal.' You're going to be like, 'No, I'm just gonna stick with my screwdriver and wrench,'" said Smith, who understands the perspective of the traditional developer.
However, conventional systems for treating stormwater runoff are not only expensive, but they concentrate pollutants and eventually direct them into coastal waters. Today thousands of acres of shellfish beds are closed across the N.C. coast because of the dangerous levels of bacteria found in stormwater.
"Although I wouldn't call myself an environmentalist, I am very in tuned to water quality," said Smith. He grew up along Wilmington's Intracoastal Waterway, fishing and catching clams and oysters. As a contractor and developer he observed the ineffectiveness of the wet ponds.
Smith is working on a planned development on the Northeast Cape Fear River near Castle Hayne called River Bluffs. Smith's 257-acre development will have 193 homes in its first phase and a 143-slip marina on the river.  The gated community will sit on a bluff overlooking the river with native a hardwood forest expanding over its rolling terrain. To put in a traditional wet pond, Smith would have to cut down swaths of the forest and pay to remove acres of sandy soil that are perfect for naturally absorbing excess rain.
When the state released new guidelines for LID in 2010, Smith was happy to redesign River Bluffs, switching from the traditional wet ponds to LID techniques. These techniques allow for stormwater runoff to flow over the natural landscape, soaking into the soil where it does not cause a problem for water quality.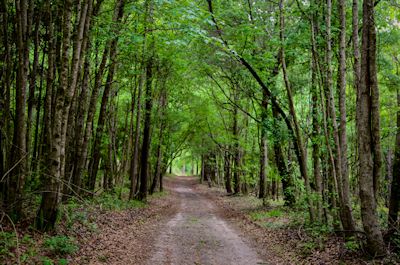 More than a third of the forested land at River Bluffs will be preserved as green space. Photo: River Bluffs
The roads in River Bluffs will not have curb and gutter, a cost savings of $500,000, Smith estimates. For the developer, one of the greatest benefits of LID is its cost savings, Smith said. With LID, homeowner dues will be quite less than is typical because it's easier to mow a park than slopes of ponds all summer long. Neither will someone have to maintain the ponds.
Rather than clear an 80-foot wide path through forest to put a stormwater pipe into the ground, the lower forested areas will double as green space for the residents and stormwater management systems. "It would look like Interstate 40 going through there where I'd cleared all these trees to lay a piece of pipe," said Smith. "With the LID I'm not being forced to pipe water through some of my terrain."
That's another cost savings.
Smith is building a model house to present some of the LID techniques that the homes will feature. "I want to be able to show people an example of each to alleviate some of the fears," he said.
Those features include pervious driveways that allow stormwater to penetrate into the ground; cisterns that collect rainwater that will then be used to automatically irrigate lawns; native plants for landscaping, which require less water and fertilizer; and downspouts that direct stormwater to grassy areas rather than to the streets. The last line of defense will be roadside swales, which will collect any polluted runoff before it has the chance to reach the river.
Making the switch from conventional development to LID is not difficult, Smith will tell summit attendees. In fact, the summit will unveil new tools that will make LID easier than ever.
In the past there were fears that the permitting rules of the N.C. Department of Environment and Natural Resources, or DENR, prohibited or severely impeded the use of LID because state regulators had to approve each individual technique.
Mike Randall, who works for the N.C. Division of Energy, Mineral and Land Resources in stormwater permitting, said, "The problem is that all of our forms and the permitting process were geared for more conventional design."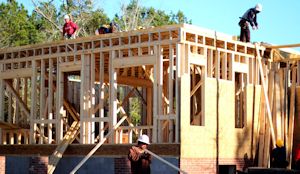 Model homes are going up to demonstrate the various LID methods that will be used to control runoff. Photo: River Bluffs
Until recently, filling out supplemental forms for a couple of methods wasn't a big deal. For 27 varying methods, however, "It would require [developers/engineers] under the existing process to submit 20 to 35 supplement forms each, which are 4 or 5 pages long, along with a maintenance agreement and some soil samples for each one of those," Randall said.
Over the last few years, local governments, the N.C. Coastal Federation and DENR have been developing tools that simplify the permitting process. At the summit, Randall will talk about some of these new standards and tools, like StormEZ, an interactive spreadsheet that allows engineers to demonstrate compliance to rules and regulations in one form instead of potentially 30.
"They just enter what they know about the project and let the form do the rest of the work for them," said Randall.
While the state will be using StormEZ for all its projects, local governments have the choice of adopting it. Randall hopes they will.
"We're hoping that it will simplify [the permitting process] so that if you're a developer you don't have to worry whether you're submitting one form to the state and a different one to the local governments," Randall said. "But that will be a decision that the local governments have to make."
The meeting in Raleigh will be a way to learn about the benefits of LID. It's open to everyone, and there will be plenty of experts making presentations, sponsoring displays and answering questions.
"I hope this summit will serve as a springboard for the widespread use of LID, not only at the coast but across the state," said Lauren Kolodij, deputy director of the federation.