MERRITT—Environmentalists fear that a major land-clearing operation near the Neuse River and this small town in Pamlico County could be destroying wetlands without the required permits.  But federal and state regulators who visited the site say no permits are needed because no wetlands have been disturbed.
The 4,500-acre tract is owned by Spring Creek Farms LLC, which is registered in Illinois, according to Pamlico County tax records. About 250 acres on the south side of State Road 1324 are currently being cleared, said Abel Harmon of Hydeland Construction & Consulting in Swanquarter, who is working on the project.  Farming could begin any time after the land clearing is complete, Harmon said in late September.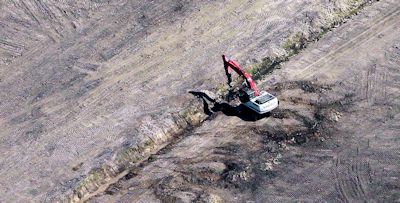 A backhoe works in a ditch on property that's being cleared for farming Pamlico County. Photo: Rick Dove
It appears that an application to the Army Corps of Engineers is pending to clear the rest of the property for farming.  A hand-written note contained in a file maintained by the Corps states that it is anticipated that the entire tract will be converted to agriculture. The N.C. Coastal Federation obtained the file through a Freedom of Information Act request.
Nearby property owners and environmentalists are alarmed, calling clearing the first large-scale effort of its type in low-lying areas in years. Rick Dove, the former Riverkeeper for the Neuse River Foundation, flew over the site on Sept. 20 and took photos. He thinks at least some of the property that has been cleared is, or should be considered, wetlands. Derb Carter, director of the Chapel Hill office of the Southern Environmental Law Center, has seen Dove's photos and others taken from the ground. He, too, says there is a strong likelihood the property includes wetlands. If they're right, almost any disturbance would need a Corps' permit under the federal Clean Water Act.
Dove, who came to national attention during the 1980s for his efforts to protect water quality in the Neuse, said the activities he saw from the air were "nasty" and unprecedented in the area in recent years.
"I've done a lot of flying over these kinds of sites, but I have really never seen what I saw there," he said. "I know it's probably happened, but I haven't seen it. The whole site was just completely defoliated. There were several bulldozers working. All the vegetation is gone and it appears to me they were digging to deepen ditches, to deepen them or widen them or both, and maybe even digging in existing streams."
A nearby property owner, contacted in mid-September, said he saw as many as eight bulldozers and two backhoes operating at one time. For some time, he said, land-clearing work was occurring six days a week. Trees were felled and chipped, stumps were dug up and pushed aside and ditches were being widened and deepened. He, too, believes there are wetlands involved.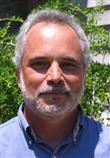 Todd Miller
Todd Miller, executive director of the federation, contacted the Corps about the project in early August. In a letter to Emily Greer, a program specialist in the Corps' Washington, N.C., field office, he said the N.C. Division of Coastal Management considered the property to have "substantial" ecological and water quality values based on an inventory of wetlands it provides on its web site.
Local landowners, he wrote in his letter, told him that the only ditches on the property before 1990 were along the road.  Miller told the Corps that a former landowner dug some new ditches after most of the trees were logged in 1990.
Most ditching of wetlands requires a Corps permit and a certification from the state. Existing ditches through wetlands can be maintained without permits but they can't be deepened or widened. If wetlands had been drained to log trees are then ditched to turn into farmland, a permit would still be needed.  Only ongoing, established logging and farming activities are exempt from the permitting requirement.
Carter said that from the pictures he had seen, "if there are any wetlands, it's hard for me to envision any scenario in which permits should not have been required."
In an email response to Miller's letter in August, Greer said that she and Anthony Scarbraugh of the N.C. Division of Water Resources met with Harmon on the site "as a result of multiple citizen complaints of possible conversion of silviculture lands to agriculture lands, as well as a request from Mr. Harmon."
Greer said in the email to Miller, "During the inspection, we observed maintenance of the existing drainage ditches, ongoing logging activities and no clearing of the subject properties that violated wetland standards regulations under the Clean Water Act."
She wrote that aerial photos taken in 1993 show the ditches. "We have no knowledge of new ditches installed on the property by Spring Creek Farms, LLC," Greer wrote.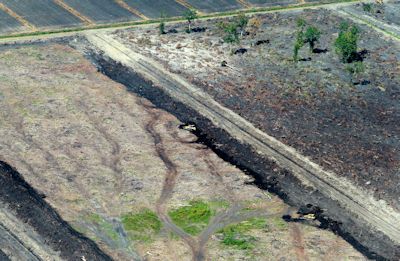 The 250-acre tract has been completely cleared, and activists worry what that mean to water quality in nearby Neuse River. Photo: Rick Dove
A survey of the property to determine how much of it might be wetlands was done and submitted to the Corps on Aug. 21, she wrote, but Greer didn't divulge the results of the survey. Carter said he doubted the Corps would release such information without the permission of the property owner.
So far federal and state officials have given the green light to clear about 250 acres of the 4,500 acre parcel.  Greer included a hand-written note in the Corps file after her Aug. 7 site inspection that says, "Approximately 4,500 acre tract being (unintelligible handwriting) and chipped in the anticipation of converting to agriculture."
Greer did not return phone calls or answer an email request for comments.
Susan Massengale, spokeswoman for the state Division of Water Resources, said the state inspectors visited the site four times and concluded that "this particular" area being cleared was not wetlands.
"It does have hydric soils, and (associated) vegetation," she said, but the soil was not saturated.
"It needs to have all three of those things" in order to be legally designated as wetlands, Massengale added. "We went four times and looked very carefully, studying the plants and the soils, there was just no way that it qualified. And so there is nothing being done there that is noncompliant."
Miller would like to see the evidence. "We submitted a request to the Corps see the wetland delineation for the entire 4,500-acre property," he said. "It's hard to imagine any large piece of property growing maples, sweetgums and bay trees in mucky soils in Pamlico County that doesn't contain substantial areas of wetlands.  Perhaps someone built a dome over this property!"
Harmon said, "The government wouldn't allow us to clear the property if it was wetlands," and attributed the ruckus over the property in part to "sour grapes" by farmers who passed up opportunities to buy the land.

Rick Dove
"This land was for sale several times (before Spring Creek Farms LLC bought it) but they thought the price was too high or thought it was wetlands and they couldn't do anything with it," he said. "Then an out-of-town group bought it and started doing something with it and they don't like it."
But the issues go beyond whether the property is or is not wetlands. The property drains into a creek that goes into Neuse River, which for years has been designated as "nutrient sensitive." The land clearing and conversion to farmland will eventually result in use of fertilizers and other chemicals, which absent the vegetation, will run into streams and then into the river.
"All of the ditches and streams go to the Neuse," Dove said. "These areas are like the human liver. They filter out pollution. A human can't live without his liver and the streams can't live without these areas."
The area has always been a productive area for commercial fishermen.
Whatever the final result of the debate, Dove and the nearby property owner fear significant damage has already been done.
"It's pretty much cleared," Dove said. "About all anyone could do at this point is contest that no permit was apparently required" and seek mitigation.
Dove added that he hopes the apparent lack of Corps action doesn't herald a return to the not-so-distant days when conversion of wetlands and forest areas to agricultural uses was widespread and relatively easy in the coastal North Carolina region.
"There's a lot of land out there," he said. "We need to protect our streams, and it's hard to do that if we don't enforce the rules we already have."