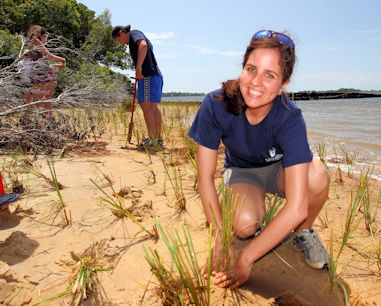 Intern Rachel Bisesi plants sprigs of marsh grass on Jones Island.
OCEAN — Nine college students who participated in the N.C. Coastal Federation's summer intern program received their "diplomas" on Aug. 3 in a graduation ceremony during the annual Pelican Awards luncheon at the Duke University Marine Laboratory in Beaufort.
But those nine members of the N.C. Coastal Advocacy Institute class of 2013 got much more than a piece of paper for their three months of work and fun, and so did the federation.
The students – five of whom were from Duke University – got real-world experience in coastal advocacy, water quality enhancement and habitat protection and a thorough understanding of how an environmental nonprofit organization works. And the federation, North Carolina's only organization that focuses solely on coastal water quality protection and enhancement – got valuable service from talented people who are likely to be future leaders in the field.
"They did great work," said Ana Zivanovic-Nenadovic, who heads the program and is the federation's program and policy analyst. Among the key projects all the students worked on was development of an online watershed and stormwater management primer for local governments.
The students came to the federation in different ways.
Kristen Daly, originally from Long Island, earned her undergraduate biology degree at UNC-Wilmington before moving on to the Oregon State University, where she's a professional science master's student in environmental science. She said she's had a deep love of the ocean since her childhood on the beaches of Long Island, and that deepened at UNCW.
While at Oregon State, she was involved in some policy research, looked up land-use planning information to compare policies in Oregon and North Carolina, and the federation's name kept popping up. She decided to apply for the program, was accepted and quickly found that "it's very special."
"In some internships, you do one thing," she said. "Here, you do everything. You do research, you do field work, you work closely with the whole staff and you get the benefit of all the experts the staff brings in from state agencies and universities and local governments to talk to us."
There is, she said, no "typical" day. She spent a lot of time working on the stormwater manual, which she believes will be of great value, but spent at least one day a week, usually Wednesday, working in the field on the federation's long-term effort to use oyster shell plantings to stabilize the shoreline and help bring back oyster stocks on Jones Island, in the mouth of White Oak River.
"I probably enjoyed that the most," she said. "It's amazing to see how many people get involved as volunteers to help. Some of them drive three hours for one day. People are very passionate about it. It's something they can do to make a difference. And it was great to be a part of it."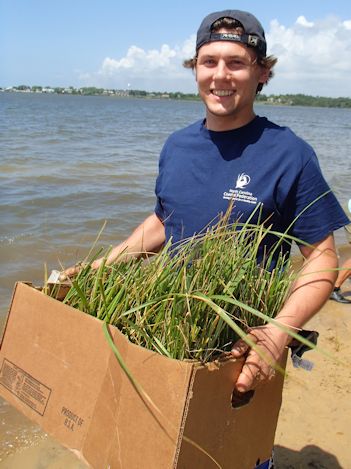 Intern Peter Zaykoski got a real appreciation for the importance of preserving coastal resources.
Peter Zayoski, a Duke master's student in coastal environmental management, said the experience of working on the stormwater project was both valuable and very challenging. But he, like Daly, enjoyed some of the field work most, and pointed to a trip to Beacon Island, in Pamlico Sound. It's one of only nine remaining sites for brown pelican nesting in North Carolina, and the federation staff and volunteers are planting thousands of bags of oyster shells to build sills to slow erosion and protect that critical habitat.
The work, Zaykoski said, was meaningful, but so was the trip from Cedar Island to Beacon Island, because it offered such a great view of the majesty of Pamlico Sound, the state's virtual inland sea.
"We took the boat through all the pound nets and then you finally get there and you see that tiny island," he said. "It gives you a real appreciation for the North Carolina coast and its resources and how important it is that those resources be preserved."
Zaykoski said he was first enchanted by the coast during family vacations to the coast of Maine. He eventually went to the University of Chicago, where he earned a degree in environmental science. While there, he spent two summers studying the biology and ecology of intertidal areas in Washington State. That helped persuade him to point toward a career in environmental protection, and he's now pursuing his masters at Duke, which has a renowned marine lab in Beaufort and a longstanding connection to the federation's intern program.
At the beginning of the internship, he said he wanted to learn more about the inner workings of a nonprofit organization, and the federation had been the perfect place to do that. One major reason, he said – literally echoing Daly – is that the small staff size at the federation necessitates that everyone be passionate and continually engaged in a wide variety of activities.
"The volume of work surprised me," he said. "This is a small organization in terms of the staff and the building. You can drive by it and blink and not see it. But the amount of work that is done is tremendous."
Both interns said the federation staff was fun to work with, and all were good at showing how knowledge from academic pursuits correlated with the real world of field work and public policy efforts, including lobbying. The interns all got to go to public meetings to see advocacy in action and they think the experience has helped prepare them for future jobs. Daly said working for the federation, or a very similar organization, would be an ideal career choice.
"At times it can feel overwhelming," Daly said of the schedule and the workload, but there also is a lot of freedom, and plenty of time for fun between work.
Both were also impressed by the state's coast and the commitment by so many to preserve its resources.
"It's a beautiful coast with unique resources," Zaykoski said. "There has been historical degradation, and it's going to be a continual struggle to protect it, but with a lot of effort and commitment, it can be done."
Daly said she'd seen a lot of pride in the coastal residents and others who want to preserve the resources, and stressed that while the political climate in Raleigh might have changed in the past couple of years, good programs are still in place and people can't afford to get discouraged. Hard work on the community level – things she saw through her summer internship – will be a key.
"Things that start in the community are the things that will have the most impact," she said. "It's not going to get done in Washington (D.C.) or Raleigh. People on the local level have to get involved and stay involved. People working together on what might appear to be something small can have a tremendous impact.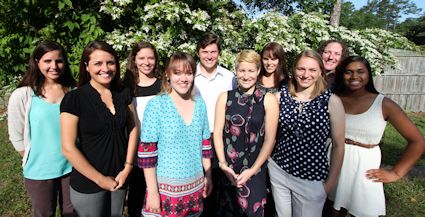 The Class of 2103, from left: Rachel Bisesi, Kimberly Hernandez, Krista Shipley, Morgan Piner, Peter Zaykoski, federation staffer Ana Zivanovic-Nenadovic, Shannon Fouts, Amanda Santoni, Kristen Daly and Victoria Grose. 
"Sometimes when things appear negative, you have to focus on the good things and just keep on doing the things that have to be done," she continued. "You can't stop doing what needs to be done because it seems hopeless. You have to see that what you do can make a difference, and keep doing it."
Zivanovic-Nenadovic said she believes those who participate in the federation's internship program gain much that will eventually help them make a difference.
"It's a very hands-on program and the interns get to experience some of everything we do," she said. "And we do try to bring in most of our partners in the community to help the interns understand what we do and how we do it, and that we can't do it alone."
Zivanovic-Nenadovic said she hopes the program will continue to grow.
"We had the most students involved this summer in the three years that I've been involved," she said. "It started out with just the five Duke students, but we've intentionally diversified it to bring in students from other schools. We want to put as much emphasis as possible on students from North Carolina. Many of the interns will go on to careers in the fields, but the ones who are from North Carolina are more likely to stick around. And that's what we are about: the North Carolina coast."
Other interns this summer were:
Rachel Bisesi – She's from Pine Level and earned her undergraduate degree in environmental studies at UNCW. She has worked as an environmental education and marine research technician and as a naturalist in a South Carolina state park. She's a grad student at Coastal Carolina University. Before becoming an intern, she had volunteered for the federation, and her main interests are coastal outreach and education.
Shannonn Fouts – She grew up in the Pacific Northwest with Puget Sound on her doorstep and the Pacific Ocean just a couple hours' drive from home. She earned her bachelor's degree in biology at Pacific Lutheran University and continued on to the coastal environmental management program at Duke University's Nicholas School of the Environment.
Victoria Grose – She is an undergraduate at UNC-Greensboro and wants to educate people about the importance of environmental issues and encourage them to have positive lifestyles and help protect the coast.
Kimberly Hernandez – She earned her bachelor's degree in environmental and international studies from the University of Kansas and is a grad student in the coastal environmental management program at Duke University. Soon after earning her degree at Kansas, she traveled to Ecuador for a volunteer project, fell in love with sea turtles and is focused on protected species management.
Morgan Piner – She is a senior at N.C State University, majoring in marine and coastal natural resources with a minor in theater. She was born in Wendell, but spent many summers in Morehead City. She focused this summer on learning about low-impact development and water quality protection.
 Amanda Santoni – She's a second-year masters student at Duke University pursuing a degree in coastal environmental management. She earned her undergraduate degree in biology at Randolph-Macon College, where she conducted research on marine larval ecology. She's interested in salt marsh ecology, wetlands conservation and restoration and water quality issues such as stormwater runoff.
Krista Shipley – She's pursuing her master of environmental management degree with a focus on coastal environmental management at Duke University and received her bachelor's in marine science from Eckerd College in Florida. Her main focus is invasive species prevention and mitigation techniques as well as state, federal, and international policies related to those issues.