WILMINGTON — The state Division of Air Quality wants to hear from the public before deciding whether to grant Titan America's request for a permit extension, one that asks to increase the amount of pollutants emitted from its proposed Castle Hayne cement plant.
An Aug. 5 public hearing has been set regarding the revised air quality permit application Titan submitted to the state in April to build the plant along the banks of the Northeast Cape Fear River.
The company is seeking an 18-month extension, citing that on-going litigation with environmental groups, including the N.C. Coastal Federation, make it difficult to stick to the required construction timeline.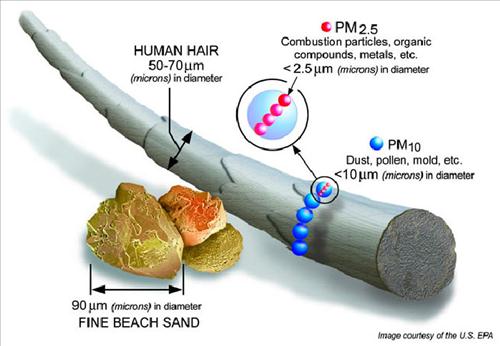 Particles can harm lung tissue by lodging in the lungs causing scarring and decreased lung function. PM10 also causes eye and throat irritation, premature death and reduced visibility from haze.
Titan's application also asks for an increase in its potential release of particulate matter, or PM, particles and soot that are directly linked to causing serious health conditions.
Geoff Gisler, an attorney with the Southern Environmental Law Center, said Titan's request to increase pollutants into the air is the most obvious change in the modified permit.
"We're still digging into it," he said. "Based on their existing permit that said that they can do better to reduce their particulate matter we think they should be held to that higher standard."
Titan spokeswoman Kate McClain stated in an email that the company had no further updates since asking the state to accept changes to its permit.
Titan says the request for increase in PM was a result of changes the U.S. Environmental Protection Agency made last year to reduce various emissions, including PM from cement kilns throughout the country. The EPA determined that PM emissions could not be reliably measured based on its 2010 rule.
The change is not expected to impact the proposed plant's actual emissions and the company will operate within the National Ambient Air Quality Standards, according to an earlier Titan statement.
Such promises have not deterred opponents of the project from fighting tooth-and-nail to keep a cement plant out of Castle Hayne.
It's a battle that has spanned more than five years following the corporation's announcement to build a the plant and accompanying limestone mine in the small New Hanover County community.
Sarah Gilliam, a coordinator of the grassroots group Stop Titan Action Network, said Titan's latest permit request is a "slap in the face."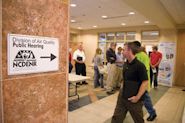 The state will hold a public hearing on the Titan's request for a permit extension.
"Titan and DAQ have shown that this pollution is avoidable," she said. "This is very specific. It's very blatant that, here we go again with Titan saying one thing and doing another. I don't understand how regulators can even entertain the idea of putting more particulate matter in our air."
Gilliam said she checked the particulate matter model in Castle Hayne over a two-week period and that, on July 8, the area hit the highest numbers in the state.
"That's alarming that we already have these spikes for particulate matter," she said. "Titan's 2012 permit allows for over 300 tons and now this request is an additional 32 tons. We're already seeing spikes in Castle Hayne and Titan is asking for more. Particulate matter is really bad for your health. We shouldn't be going back in this permit and giving them legal room."
Stop Titan members have been actively getting word out and petitioning locals, making the rounds through weekend crowds at surfing and fishing competitions to generate feedback to state air quality officials.
Gilliam hopes the turnout at the August 5 hearing will be similar to the round of hearings in September 2011, which drew hundreds of area residents.
"I really hope that Division of Air Quality listens to the community," she said.
In its public notice, DAQ states that a preliminary review finds the project can be approved and a permit issued, "if certain permit conditions are met."
The state issued Titan an air permit in late February 2012. That permit requires the company begin building "air pollution emissions sources or associated air pollution control devices within 18 months" or the permit will expire.
Opponents question why the company is seeking an extension when Titan officials have said all along they will not build the plant until they have every necessary permit. Titan has not applied for a wetland permit or a special use permit.
Titan has responded, saying that they may need to undergo minor construction to meet state requirements at the site before they obtain all permits.
Last month, McClain stated that the company would not begin manufacturing until all of the permits are in hand.
The public hearing will be held in the University of North Carolina Wilmington's Kenan Auditorium from 6 p.m. to 10 p.m. Comments will be limited to three minutes.
The state is accepting written comments postmarked no later than Aug. 9 to Steve Hall at steve.hall@ncdenr.gov or mail them to Hall at DENR, Division of Air Quality, Raleigh Regional Office, 3800 Barrett Dr., Suite 101, Raleigh  27609.