Kate McClain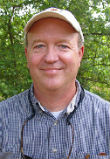 Mike Giles
WILMINGTON — The company pursuing construction of a cement plant in New Hanover County wants to increase the amount of pollutants allowed from the proposed facility.
In its request for an 18-month extension on its air permit, Titan America asks to increase its potential release of particulate matter, or PM, at its proposed cement kiln in Castle Hayne on the banks of the Northeast Cape Fear River.
This further raises concerns among environmental groups, including the N.C. Coastal Federation, which recently learned that the company in 2011 purchased nearly 2,000 acres adjoining the proposed site of the plant under the name Sidbury of the Carolinas LLC, a land-holding company, according to records a the N.C. Secretary of State's office.
Titan closed a $3.3 million deal on the land in September 2011, about two months after the N.C. Division of Air Quality issued a draft air permit to the company.
"Why are they hiding behind their named corporations?" asked Mike Giles, a coastal advocate with the federation. "Why are they trying to keep their purchase of the property from the public? Initially they said they were going to be upfront."
Responding to questions in an email, Titan spokeswoman Kate McClain stated that its use of a limited liability company to handle real estate transactions is typical.
"It's common practice for a business to undertake real estate transactions under a different name," she wrote.
Giles questions why the standard wasn't different in this case since it was public knowledge for years the company had an option to buy the land.
"It was well known that they were after this property," he said. "They needed that land to make this a viable financial project. They own 1,800 acres that they can actually start mining right now."
Giles also questions why Titan needs an extension on its air permit when company officials have said all along they will not build the plant until they have every necessary permit. Titan has not applied for a wetland permit or a special use permit, he said.
"They're not even talking about the federal permit, which could take any where from two to three years," he said.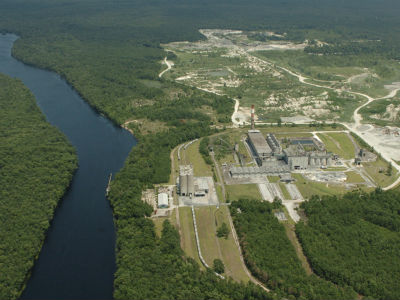 Titan American wants to build a cement plant at the site of an old plant on the banks of the Northeast Cape Fear River. It also wants to mine the adjacent wetlands for limestone to make cement. A land-holding company has quietly bought close to 2,000 acres for that purpose. Photo: Star-News, Wilmington
Titan officials are standing by their word that they will not build the plant until they have the required permits.
"Because of the process and requirements stipulated by the state of N.C., we may need to undergo some minor construction at the site before we have received all permits in hand," McClain stated. "However, we will not begin manufacturing until we have all permits in hand."
The company cites in its application for an air permit extension that on-going litigation with environmental groups, including the federation, make it difficult to stick to the required construction timeline.
The air permit was issued to the company in late February 2012 and requires that Titan begin building "air pollution emissions sources or associated air pollution control devices within 18 months" or the permit will expire.
Why the company asks for increased emissions in its extension request, filed in April, is a more complex matter, McClain said.
The Environmental Protection Agency in December 2012 amended its 2010 Clean Air Act standards to reduce various emissions including particulate matter from cement kilns throughout the country.
"The 2012 amendments change the monitoring method that cement plants use to demonstrate compliance with emission limits for particulate matter and as a result also make changes to the PM emission limits," according to a Titan statement. "The EPA made these changes based on data indicating that PM emissions could not be reliably measured using the monitoring systems EPA required in its 2010 rule."
This change is not expected to impact the proposed plant's actual emissions nor does it change the fact that the company will operate within the National Ambient Air Quality Standards, according to the statement.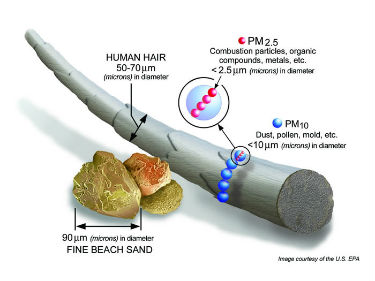 The comparative sizes of PM-10 and PM-2.5. Illustration: EPA
Titan "will consistently work to ensure the safety of public health and the environment, and will operate one of the cleanest, most technologically advanced cement plants in the world."
That does not answer the question of why, if Titan said it could meet lower emissions, it wants to potentially increase those levels, Giles said.
"It is our position that Titan stated they could meet the emission levels in their 2011 permit and DAQ agreed with them and issued the permit," he said. "Now they want to increase the level of particulate matter, which can cause serious health problems."
Titan proposes increasing its potential emissions of PM10, a course particulate, by 10.4 tons a year and its PM2.5, which the EPA designates as a fine particulate and considered to be the most hazardous to humans, by 22.3 tons per year.
Particle pollution includes acids, such as nitrates and sulfates, organic chemicals, metals and soil or dust particles. Smaller particles have greater potential for causing health problems because of their passage through the throat and nose directly to the lungs.
The EPA is particularly concerned about particles that are 10 micrometers in diameter or smaller.
The EPA states, "Once inhaled, these particles can affect the heart and lungs and cause serious health effects."