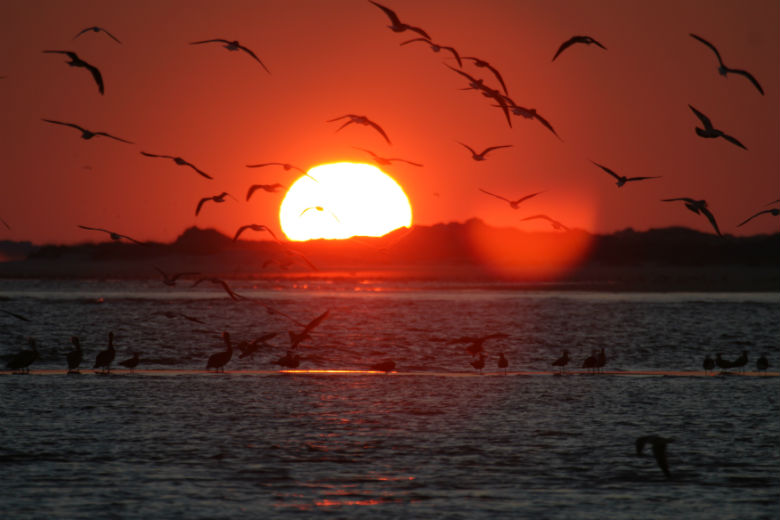 What do we do here in eastern North Carolina?, some might ask. How about taking in sunsets like this over Bogue Sound in Carteret County.
When I lived in New York City years ago, people learning that I was from eastern North Carolina seemed truly perplexed when they said:  "What on earth do people do down there?" "Well," I would say, "I'll tell you," first asking how many hours they had for my answer.
On foot, with a bicycle or small craft, anyone can deeply experience — and in a very real sense own, literally get a purchase upon — vast expanses of our coast's and coastal plain's many waters, great forests and marshes that stretch from horizon to horizon and seem never to end.
Starting next week, you can read many of those places in Our Coast magazine, the N.C. Coastal Federation's annual travel guide with a conscience. The third edition of the free magazine has been totally revamped with new stories about places you can visit to experience the beauty of our region. From the swamps of the Roanoke River to an uninhabited island near the S.C. line, Our Coast also gives you an appreciation for the fortitude of your fellow North Carolinians, many of who fought to save the places featured in the magazine.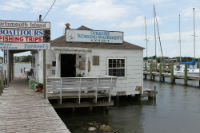 The Waterman's Museum in Ocracoke offers a glimpse of life as a commercial fisherman.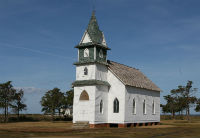 The abandoned village of Portmouth, meanwhile, offers a look at what it took to be a rugged Outer Banker.
Look for Our Coast at more than 150 locations along the coast. You'll find them in supermarkets, restaurants, visitor centers, aquariums and other places where tourists gather in the summer. A digital version will be available next week on the federation's Web site.
Take some time on your visit to the coast to discover the Albemarle Lagoon — what the hydrologists call the Albemarle and Pamlico sounds and all the rivers that feed them. It is one of the largest enclosed embayments in the world, and also one of our planet's most highly articulated, and fruitful, estuaries — half of eastern America's fisheries are nurtured here.
A grand chain of publicly-owned territory stretches from Mackay Island in northern Currituck Sound all the way south to Bird Island at the South Carolina state line, a collage of public (or held by non-profits) coastal lands comprising tens of thousands of acres. Nearly half the seacoast is accessible conservation land: from Currituck Banks, Nags Head Woods, Cape Hatteras and Cape Lookout national seashores to Bear Island, Masonboro Island and the Bald Head Marshes.  Just behind the barriers lie such glorious and enormous wildlife refuges as Alligator River, Pocosin Lakes, Mattamuskeet and Cedar Island, along with big forests like the Croatan. All in all it's a naturalist's dream.
Our island paradises are legendary. On Roanoke, Fort Raleigh and the Elizabethan Gardens beckon visitors afoot, and Dough Creek off Shallowbag Bay and the Roanoke Marshes along the southeastern island-side call kayakers to action. Most of Hatteras' 50 miles is undeveloped sea and sound shore, and Buxton Woods, the 1,000-acre maritime forest just behind Cape Hatteras, boasts several miles of trails, as does Ocracoke and its Springer's Point Preserve and Jim Stephenson Trail.
In the 2,300-acre Rachel Carson Reserve, a short boat ride across Taylor's Creek from Beaufort, one might walk through short cedars in the sand where the wild ponies hide. Here Rachel Carson worked (she wrote of its huge tidal flat in The Edge of the Sea) — from the beach at Bird Shoal, one looks out on the long barrier island of Shackleford Banks and, north, toward the lighthouse sentinel of Lookout Shoals.
Farther south, for a passenger-ferry or kayak ride, Hammocks Beach State Park offers us the rewards of Bear, Jones and Huggins islands, and, below them, coastal reserves at Masonboro and Bald Head deliver even more.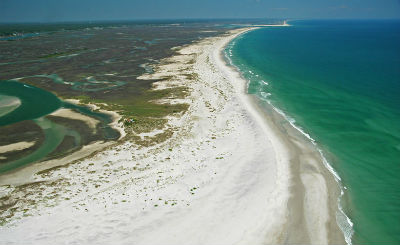 Most of uninhabited Lea-Hutaff Island on the southeast N.C. coast is a protect bird sanctuary.
On Lake Mattamuskeet every winter, tens of thousands of swans and geese and ducks splash down, glancing hopscotch-style as they take off, or just take it easy rafted up within sight of the pull-offs along the N.C. 94 causeway across the lake.
Each spring, not long after those swans fly north, songbirds by the millions flood our eastern swamps, returning from the Caribbean, the Yucatan and Cuba, warblers singing to beat the band and find their mates. Hidden oases like Great Lake in the Croatan Forest give the osprey nesting space atop hundreds of short cypress, and, out on island sanctuaries in the sounds from Cape Fear to Currituck, terns and pelicans nest in sand scrapes and crude cushions of straw.
Just north of South Mills, a pedestrian bridge leads one into the edge of a vast morass in the Dismal Swamp State Park. On Merchant's Mill Pond, near Gatesville, one canoes through cypress trees heavily hung in gray with Spanish moss, and campers on beechwood hillsides beneath a full moon hear barred owls crying Who cooks for you all? all through the night.  From Buffalo City, just west of Manteo, one of the loveliest paddle trails in the Carolina east leads to the deep-green conifers and freshwater marshes of Sawyer's Lake, then to long, lake-like Milltail Creek, where alligators sun on wind-fallen pines.
Ours is a breathtaking, water-loving land, and the glories one finds in these wild redoubts are many. A great hope I share with all my cohorts at federation is that our fellow citizens will ramble, afoot, afloat, afield in any way, to coastal spots both easily accessible and well off the trodden track, and will come to love, or deepen their existing affections for, the tidewater and riverine lowlands and the many waters that belong to us all.
What do we do down here? We wish all comers a warm, hale and hearty welcome to the sound country and, indeed, to all the coasts of Carolina.