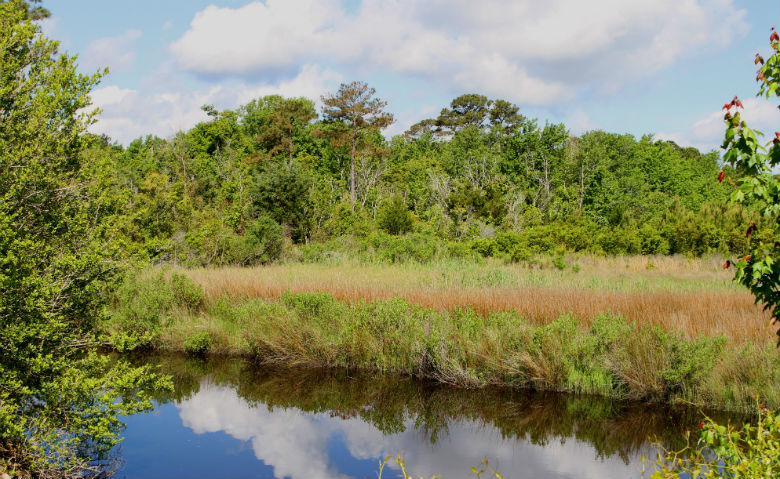 A farm along North River in eastern Carteret County is being slowly restored back to wetlands to benefit wildlife and water quality. Photo: Sam Bland
SMYRNA — The waterfowl welcome mat is out at North River Farms in Down East Carteret County, and Wes Newell expects up to a million visitors someday.
And that's just the snow geese.
Other birds are already there – pelicans, egrets and all the usual small stuff – and they're perfectly welcome, of course, to hang out and wait for friends that are sure to come.
Newell, owner of Backwater Environmental, a Pittsboro company, is one of the owners of the land and a is a key partner in a monumental effort to restore this 6,000-acre farm to what it was back before it was a farm: a vast natural wetlands and an astonishingly beautiful habitat that not only supported wildlife, but buffered polluted runoff from the North River, Wards Creek and Jarrett Bay watersheds, all important fishing grounds.
Altogether, Newell said, 150,000 trees and wetlands plants have been planted on this 385-acre tract. It breaks down into about 320 acres of wetlands and 60 acres of forest.By sometime next month, Newell said, as he showed a reporter around the property on a crystal clear spring morning in early May, his company will have finished 385 acres of restoration work. Trees – cypress and other swamp hardwoods – were planted last year, in advance of what's being done now: plugging the agricultural canals that once irrigated crops but which also dried the land and funneled pollutants into larger streams that were home to countless shellfish and other marine organisms.
Once the canals are gone, water will saturate the land, and pine trees – some planted and some natural – will begin to fade away, to be replaced by even more of the native swamp hardwoods. As Lexia Weaver, put it on that recent spring morning, it's going to be "reverse succession." She's a coastal scientist for the N.C. Coastal Federation, the lead partner in the restoration effort.
On this morning, two earthmovers are growling away in some of the richest, thickest mud you'll ever see, building a dike. The muck is even muddier than usual, because it rained almost every day for a week. But Newell said things are on schedule. And once the construction is finished, some more trees and plants will go in, and then nature will run its course.
"We're already seeing a lot of waterfowl, and we've been told that we can probably expect a million snow geese to stop here, eventually," Newell said. "We're in the right place."
If Lake Mattamuskeet in Hyde County deserves to be called the "Serengeti" of birdlife, there might have to be a similar moniker for North River Farms when the work here is finished.
That effort, spearheaded by the federation and its executive director and founder Todd Miller, began nearly 15 years ago, when the non-profit group in 1999 bought 1,991 acres of the farm for $1.07 million, with a grant from the state's then-thriving and now endangered, taxpayer-funded Clean Water Management Trust Fund. That acreage has long been restored. In 2002, federation purchased an additional 2,168 acres of the farm for $3.01 million, with more money from the trust fund. The federation is developing the restoration plan for it now.
That same year private investors — 1804 Wildlife Partners LLC, a hunters' group – bought 1,435 acres of North River Farms with intended enrollment in the federal Wetlands Reserve Program. That land is also now restored, and is home to growing impoundments for waterfowl.
Hunting activity seems sparse, Weaver said, but it's an important part of this and many other conservation efforts these days: It provides income in an era when state and federal grants for large conservation projects are becoming harder to find.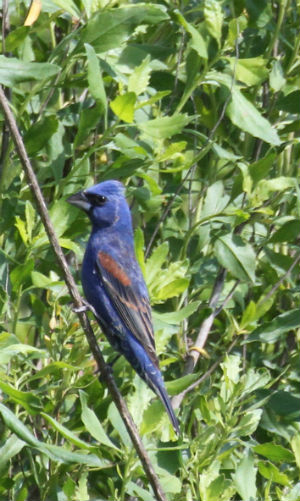 This blue grosbeak is one of the many species of birds that can be found in the restored wetlands at North River Farms. Photo: Sam Bland
Also that year, a private mitigation bank company, Restoration Systems LLC, purchased 385 acres of the farm. It's that purchase that ended up in the hands of Backwater Environmental, which also does mitigation work, helping balance the environmental damage done by highway construction projects and other types of development elsewhere.
Newell, who among other things has served in the Peace Corps and U.S. AID, has been involved in this kind of work since 1990. He's proud to be a participant in the North River project, which he called the only opportunity on the East Coast to create a whole "new" ecosystem.
Weaver, who visits the site often and has been closely involved in the overall project, pointed out that many other agencies have participated in the project financially and providing expertise. Among them are the National Oceanic and Atmospheric Administration, the Environmental Protection Agency, the U.S. Fish and Wildlife Service, FishAmerica Foundation, the N.C. Albemarle-Pamlico National Estuary Program and the N.C. Wetlands Restoration Program.
Universities, including N.C. State, have also been involved, through planning, design and research and monitoring. In fact, Newell and Weaver said, N.C. State is doing the planning for one of the most exciting parts of the project: channeling the water that has flowed in now-doomed straight and unnatural agricultural canals back into long-dry creek channels. Aerial infrared photography, Weaver said, shows where those creeks and even smaller streams were before the farming operation altered the landscape. All together, Newell said, there will be about 4,000 feet of shallow stream restored.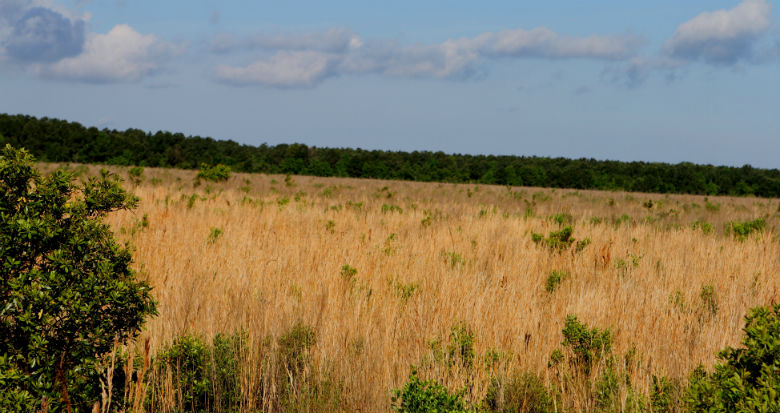 This was once a farm field that drained its pollutants into North River. The ditches that drained the field were plugged and nature had its way. Photo: Sam Bland
All of the entities involved, Weaver said, have worked well together. Although no one person or organization "manages" the effort, they coordinate and cooperate.
And Newell pointed out that while the farming operation might not have been good for the natural environment in a watery paradise like Down East Carteret County, the farm's owner, Jimmy Winslow, was a key to the project.
When Winslow decided to consolidate his finances in a farming operation in the Edenton area, he could have sold the farm, or portions of it, to someone who'd have used the flat, by-then mostly dry land for residential or even commercial development. But Winslow, Newell said, decided he wanted to go the natural route and create wildlife habitat and help stop the pollution that had contributed to the state-required closure of countless shellfish beds over the years.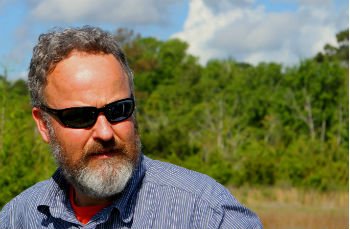 Wes Newell expects a million visitors — snow geese — to land he's helping restore at North River Farms. Photo: Sam Bland
"He held out for environmental restoration," Newell said, as he, Weaver and federation staffer Sam Bland walked along a muddy path beside a canal. "And he was excited about it."
Countless volunteers have participated in the work, plugging plants into the swampy restoration areas. The federation uses school groups as often as possible, both because kids are hard workers and because they enjoying getting out in the muck and learning about wetlands – and they often become environmental stewards in the process.
Some of the planting on the 385-acre tract, Newell said, was done by machine. But hand-labor gets it done best. When the manual work is "just too much" for volunteers, the partners in the project call in a private contractor, Carolina Silvex.
"It's amazing," Weaver said, "how much they can do. They come with big knapsacks and just get it done."
The entire North River Farms project will eventually involve the planting of more than a million trees and other wetlands plants. Up to 5,100 acres of the 6,000-acre farm will be restored to wetlands.
Miller said there's already clear evidence the conversion is working. "One of the major goals was to clean up the water quality down stream in North River," he said. "When it was ditched and drained for agriculture, it took about two hours for the (rain) water to run off."
Now, he said, monitoring indicates it takes a month or more.
"What's happened is the land is doing what it is supposed to do, acting like a sponge to just suck this water up," he said. "We've restored the old hydrology."
Miller said he's pleased with what he's seen of the work on the Backwater Environmental land, and called it a fine continuation of the overall plan for the old farm.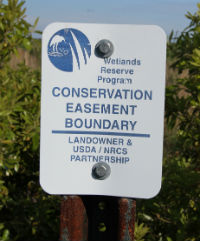 It's not, however, an easy task, and there's much to consider when doing this kind of work, not all of it obvious. During the recent walk, Newell and Weaver pointed out a patch of phragmites, an invasive species of reed. It grows fast and tall and lives a long time … and is utterly useless, according to Newell. Wildlife doesn't eat it, and if left unchecked, it can take over large areas normally inhabited by native and more beneficial wildlife vegetation.
They also expressed a little concern about a crop dusting plane that circled over the area several times while working at Open Grounds Farm, a sprawling and still operating international agricultural farm that borders the property. Pesticides, after all, are pollutants, and can still be carried to shellfish waters by the slow-moving tidal canals, in which the tide fell visibly in a 90-minute span.
But change is hard, and takes time, even at North River Farms, where some farming still takes place. The federation leases a portion of its property – that's the 2,168 acres purchased in 2002 – up close to U.S. 70, for farming. To get to Backwater Environments' 385 acres, you must drive through acres and acres of wheat, still low but green this time of year and blowing slightly in a gentle breeze on this spring morning.
But the wheat is essentially an endangered species here; Weaver said that after this year's crop is harvested, that will be it. North River Farms will be a farm no more, just a stirring and hopefully successful example of what man can do to repair some of the damage he's done, wittingly or not, to a fragile and important part of his world.
Related Stuff Worth a Look