"Is it not enough for you to feed on the good pasture, that you must tread down with your feet the rest of your pasture; and to drink of clear water that you must muddy the rest of the water with your feet?"
– Ezekiel 34:18
SWANSBORO — Members of Swansboro United Methodist Church are certainly making an effort to preserve "clear water" for others – including marine life – as they prepare to start construction this year of their new Family Life and Ministry Center just off N.C. 24.
Julia Wax, co-chair of the church's building committee, said recently that she and her co-chair, John McLean, have long thought it was important that they incorporate "green" and low-impact development concepts into the center, which has been a dream at the large and socially active church for about seven years.
"We feel like God calls us to be excellent stewards of his creation by being environmentally sensitive," she said.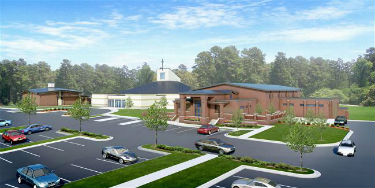 Large vegetated areas will treat much of the stormwater in front of the new building.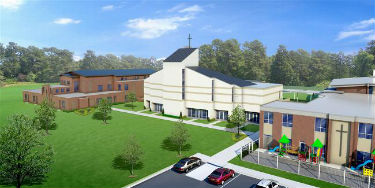 The back of the building will also rely on vegetation to treat stomwater. Architect drawings: Swansboro Methodist Church
It was a natural, really, for Wax, owner of Emerald Isle Realty, to think that way. Her business, which rents and sells homes on Bogue Banks, a barrier island in Carteret County, won the N.C. Coastal Federation's 2006 Pelican Award for "Business of the Year" on the central coast, and the firm has also sponsored the federation's photography contest, which uses photography of the coastal region's natural wonders as a way to encourage environmental protection and activism.
So, as plans for the church project inched from concept toward reality in recent months, the church's building committee reached out to the federation. Lexia Weaver is the coastal scientist in the federation's headquarters in Ocean, which is also on N.C. 24 not far from Swansboro. She met with church officials and began the process.
"We have worked with a number of public facilities, such as schools and museums, but we have not, as far as I know, worked with any churches before," said Weaver.
Weaver manages coastal restoration projects within the the federation's central region. She said she was pleased to learn that Wax and the others involved were "excited to do some great things" as the church moved toward construction, and called working with Wax and others involved "a very good fit" for the federation.
Ideas so far include islands of green – native plants – in the expansive new parking lot planned for the ministry center, and use of cisterns to catch rain from the building in order to help keep stormwater from washing pollutants off the property, which is just across N.C. 24 from the White Oak River.
"I'd love to say that we're are going to be fully LEED (Leadership in Energy and Environmental Design) certified," Wax said, "but funding for that is difficult to come by. But we're going to do all we can, including requiring that our contractor recycle his materials."
The two-story building will house expanded contemporary worship space, children's and adult classrooms, new youth activity areas and a kitchen equipped to greatly expand the church's outreach to those in need within the area.
Wax knows that the goal of "greening up," while not totally unheard of for a church, is a little unusual, particularly in a climate in which the nation seems divided on environmental and climate change issues.
"Churches are a reflection of secular society," she said. "And secular society is certainly somewhat divided on these kinds of things."

Lexia Weaver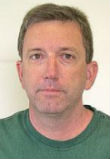 John Freshwater
Another factor is that even large churches have faced financial problems during the economic downturn, and many people perceive "green" and low-impact development alternatives as "grossly expensive," Wax said. "But we think it's the right thing for us to do."
And John Freshwater, a church member and Swansboro engineer who is handling stormwater management for the church project, said it's not necessarily true that green costs more, and it certainly isn't true in this case.
"We've still got a way to go before we get there, but it's going to actually save us money," he said. "And there should be less maintenance cost.
"This whole parking lot was going to be normal curb and gutter, but what we are doing is putting in some islands of vegetation, which will use grass and native plants to take in a lot of the runoff," he said. "They won't necessarily be what you'd call rain gardens, because we don't really have the right soils. But we think it will be very effective. It will give the stormwater a place to settle so that all the nutrients don't run off."
There will be several of the islands in the interior of the lot, one very large, about 9 feet wide by 60 to 70 feet long. Others will likely be about the same length but will not be quite so wide. Weaver and the federation will advise the church which plants will work best.
Freshwater said the plans are still fluid, but he has no doubt the final result will be environmentally friendly. Cisterns, he said, are likely, with the collected water from the building's roof most likely used for irrigation of natural areas.
The end result, he and Wax said, is that the stormwater management system for the parking lot and the new building will far exceed what is required by the state's stormwater rules and the town's regulations. And the fact that the project will be more aesthetically pleasing is no small benefit, either.
Wax said it's been gratifying to see the church congregation and its officers, including senior pastor Ed Gunter, supportive of the project, and to see the architect for the ministry building, Tripp Eure of New Bern, embrace the goals of making the addition as environmentally friendly as possible within the church's budget.
"We've gone through fund-raising and we think we have a good handle on the budget," she said. "We've been through the design work, and we've trying to procure a financing package from a lender. We're hoping that sometime this spring we will begin work on the project."