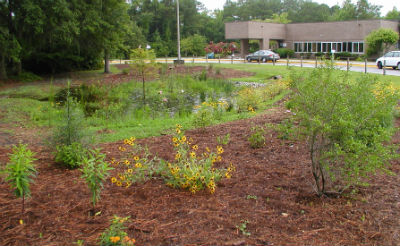 Bradley Creek Elementary School has worked with the federation and several partners to create rain gardens and wetlands to control polluted runoff.
WILMINGTON — An elementary school in New Hanover County that has worked with the N.C. Coastal Federation to reduce polluted stormwater will be recognized today for its significant achievement and outstanding stewardship in sustainable building.
Bradley Creek Elementary School is one of five projects along the southeast N.C. coast that will be honored at the eighth annual Lower Cape Fear Stewardship Development Coalition Awards Luncheon in Wilmington.
"Sometimes it takes a lot more effort to do the right thing, the innovative thing, the new thing. There should be some sort of payoff to those folks," said Mark Imperial, chair of the awards program and director of the Master of Public Administration Program at the University of North Carolina Wilmington.
The coalition formed in 2004 to recognize developers who were going above and beyond the minimum standards for building. "We wanted to create an avenue for encouraging the public and nonprofit sectors to make those investments and to serve as leaders in putting together projects that demonstrate a better way of building and developing sites for the public," Imperial said.
The Stewardship Development Program honors residential, commercial and public development projects in Brunswick, Pender and New Hanover counties that demonstrate outstanding environmental stewardship through the protection, conservation, improvement and awareness of our natural resources.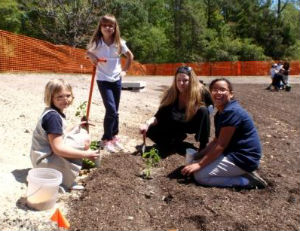 Students at Bradley Creek planted the rain gardens and help maintain them.
Bradley Creek Elementary, which has worked with the federation for several years, will be recognized today for projects to control runoff and community outreach. The school's 19-acre campus is in the Hewlett's Creek watershed, an important tidal creek that has been the focus of restoration efforts by the federation, Wilmington, the New Hanover Soil and Water Conservation District and various other partners.
Stormwater runoff is leading cause of pollution in the creek. It has degraded estuarine habitats and closed of shellfish beds to harvesting. When rain contacts rooftops, concrete, asphalt or other impervious surfaces, pollutants are absorbed and drained directly into streams rather than filtering naturally through the ground.
With the support of the school and New Hanover County school system, the project partners began visiting Bradley Creek Elementary in 2009 to create a site design and build a network of rain gardens, wetlands and vegetated areas to absorb runoff. These features collect and treat 120,000 gallons of runoff every time it rains 1.5" or more. Bradley Creek's third graders who've learned about the significance of their school's green development also get to lend a helping hand year after year.
"We take them out into the school yard so that they can get their hands wet and dirty in those rain gardens and have a sense of what the rain gardens do and some stewardship over them," said Ted Wilgis, coastal education coordinator for the federation's Southeast Regional Office.
Another project received an award of Outstanding Stewardship, the highest level of distinction available in the Stewardship Development Program, for its innovative approach to building a utility building for a 1,000-gallon tank of 100 percent recycled, vegetable oil-derived biodiesel with a $10,000 grant from the Department of Energy's Clean Cities Initiative.
The new College Union at Cape Fear Community College turned a eyesore into an example of sustainable development. Photo: Cape Fear Community College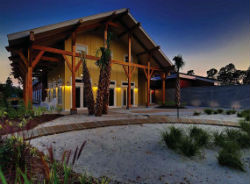 SECU Hospice House used green building practices and intimate gardens to create a serene environment. Photo: SECU Hospice House
"That amount of money is chicken scratch," said Christopher Yermal of Older School Rebuilders who was contracted for the project by Piedmont Biofuels Industrial, an N.C.-based alternative fuel cooperative.
Having lived in northern California where landfills sell reusable materials to the public at a reduced rate—a practice yet to reach the East Coast—Yermal had the idea to reach out to the local New Hanover Landfill. He brought back 4,000 pounds of repurposed materials from the landfill, which provided 98 percent of the framing lumber needed for the project.
"I certainly think there's a huge future in deconstruction and re-use of good building materials in new projects," Yermal said.
Knowing firsthand that construction waste accounts for the majority of the waste in landfills, Yermal views this sustainable approach as the solution to the "landfills bursting at their seams" as well as saving the energy and resources used in processing lumber from forests.
Architect Eric Jabaley had to modify his designs based on the materials found and used a creatively staggering approach to the wall construction, a low-tech feature with a robust insulation result. Tidal Creek Cooperative Food Market stepped in to provide the building space and electricity free of charge and joined the partners in hosting a public workshop on green roof construction—planting indigenous plants on the roof to mitigate stormwater runoff.
"I think what really impresses our judges are what sometimes people are able to do. Sometimes there's projects where you just look at it and say, 'Well what's so great about that?' And then you realize the challenge of doing everything they did without increasing any stormwater runoff when the site is almost entirely paved," said Imperial.
The Bald Head Island Conservancy also won Outstanding Stewardship for its education and research campus, which Executive Director Suzanne Dorsey called "an external expression" of their mission—fostering community-based barrier island conservation, preservation and education to live in harmony with nature.
Given that a barrier island is constantly moving and difficult to reach, finding local materials was a challenge. Dorsey said they had to change the lumber industry in order to secure local lumber as one of the stipulations of being certified as a Leadership in Energy and Environmental Design by the U.S. Green Building Council. However the conservancy didn't choose to build sustainably for the sake of getting a green certification. Protecting and restoring natural resources in turn protects the community's resources. One such example is the roof designed in line with the forest canopy, which tolerates salt spray and sheers off hurricane force winds.
"[Receiving the award] is just so validating for the staff but especially for the community that took such a big risk on building it," Dorsey said. "I think the uniqueness of this community is a leadership in sustainability that defines why the conservancy was founded and was volunteer-run for the majority of its history."
Also awarded for its significant achievement in green development was the SECU Hospice House in Brunswick County, which used green building practices and intimate gardens and natural landscapes surrounding the building to create a serene environment for its inpatient care.
And, finally, the Cape Fear Community College Union Station building and parking deck for not only transforming a site that was an eyesore and student safety concern into functional structures connected by a safe pedestrian park route but also set an example of sustainability to its growing student body and the community.
Today's ceremony also will give special recognition to the people who had the vision and commitment to create the Stewardship Award Program in 2004.
To learn more about Lower Cape Fear Stewardship Development Coalition and its efforts to promote environmental stewardship, or to register for the awards luncheon, visit the coalition's Web site.