As coastal residents either brace themselves for it or embrace it, the number of visitors hitting the coast swells rapidly every year, with a dramatic uptick around Easter. It only increases from there, long through the fall. Though they also bring traffic, tourists are the economic lifeblood of many coastal communities, a fact highlighted and quantified by the National Oceanic and Atmospheric Administration in their 2011 State of the Coast Report's Southeastern regional section.
"Southeast," as defined by NOAA, means North Carolina, South Carolina, Georgia and Florida. While the state designates 20 counties as "coastal" for the purposes of policy and management, NOAA's report covers 34, encompassing all of the coastal watershed counties.
Here's a summary of what the report found.
Population Density
Twenty-three percent of the state's population, or 2.2 million people, lives in these 34 counties.
New Hanover County, with 1,058 people per square mile, is sixth in the Southeast Region for population density—the other five are, predictably, in Florida. The average U.S. population density, excluding Alaska, is 104 people per square mile.
And these numbers don't reflect the influx of visitors who come to the coast annually. According to Dare County Cooperative Extension, that county on the northeast coast has a year-round population of about 29,000, but it swells to 225,000 during the tourist season, a nine-fold increase. In Carteret County in the central coast, the resident population of 62,000 quadruples to about 248,000 during the summer and fall.
Economy: Big-time Fishing
The report highlights the significant economic value that fishing, both commercial and recreational, have for the coast and the state in general. North Carolina's commercial fisheries lead the Southeast Region in catch value. North Carolina's recreational fisheries are second in the region, behind Florida's, with approximately 608,000 trips in 2010. One thing is certain, people come for the fish.
"This report underscores the importance of managing coastal fisheries and habitats for sustainable harvest not just for the betterment of North Carolina's economy but for the entire South Atlantic coast," said Louis Daniel, director of the N.C. Division of Marine Fisheries. "North Carolina's coastal fish stocks supply a lucrative commercial and recreational fishing industry that adds more than $2 billion to the state's economy each year. However, many of the species that migrate along the South Atlantic coast use North Carolina's waters for a portion of their life cycle."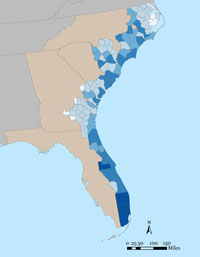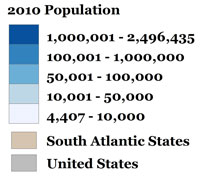 "Fishing isn't cheap," notes Anna Beckwith, co-owner of Pamlico Guide, a charter fishing company, and member of the N.C. Marine Fisheries Commission. "Even a few hooks, weights, a tub of bait shrimp and saltwater fishing license and you may get change from a hundred dollar bill. Buy a rod and reel while you're here and you may spend several hundred dollars to well over a thousand. Those big sportfishing boats may spend that much in fuel alone on a day trip. Throw in the dollars spent in fine restaurants, hotels or house rentals, not to mention the people that build those boats and the captains and guides that work on them and the economic impact is immense.
With good fisheries management, improving water quality and fish stocks and fishing regulations that are generous enough to justify all of these expenditures, more and more people are coming to the coast and they aren't just coming from western North Carolina, Beckwith said.
"With world-class fishing opportunities from the back waters to the Big Rock, big-spending fishermen are coming to the Crystal Coast from around the country and the globe and they are leaving their dollars behind," she said.
Economy:  But It's More Than Fish
Those who flock to the coast come for many other reasons, too.
"North Carolina's 300 miles of coastline are a vital part of our state's tourism product," said Lynn Minges, assistant Commerce secretary for Tourism. "Our natural scenic beauty paired with unique attractions like the wild horses on the Outer Banks, the watery grave of Blackbeard's flagship and the spiraling staircases of our coastal lighthouses draw families to our coast year after year."
Economy: Workforce
Wages paid in coastal North Carolina totaled approximately $78 million in 2010. This added considerable tax revenue to the state's coffers. NOAA reports that regionally, the Southeast coast contributed more than $600 billion to the U.S. gross national product.
The report confirms what Todd Miller has always preached: Preserving the coast's natural resources is protecting its economic vitality. "I've never thought of our coast as some hands-off museum piece," says Miller, the executive director and founder of the N.C. Coastal Federation and a coastal native. "We want people to visit the coast, to experience its natural beauty. We want them to be able to live here and make their livings off the coast. But we have to do all that responsibly, in ways that don't threaten the coast's natural beauty and, as this report shows, its economic vitality."