HATTERAS — Eric Kaplan has been a busy man since last fall when he announced his ambitious plan to build a new fishing pier in Hatteras village – one that would be much more than a fishing pier.
Kaplan, who lives in Charlottesville, Va., and is a part-time resident in Frisco, has a name for his project, The Hatteras Island Ocean Center, and by the end of last year, he had a board of directors, two pieces of property under contract and a site plan underway.
Kaplan's idea is that the ocean center will be an island-wide attraction, a place where locals and visitors can go not only for the fishing but also for other forms of recreation, education, dining and shopping.
In his description of the project, Kaplan says the Hatteras Island Ocean Center would be "much more than a replacement for the Frisco Pier," which is in poor condition and has not been open for several years.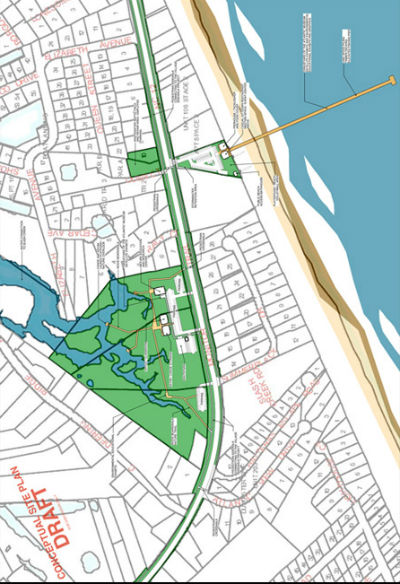 .
It will be, he says, "a place for everybody to enjoy the ocean, play, learn and have fun."
The facilities would include a world-class fishing pier, a pier house with an event venue, a restaurant for oceanview dining, other food vendors, covered playground, an arcade, plentiful parking, a public bathhouse, tackle shop, equipment rental, indoor and outdoor exhibits, classrooms, research areas and a wildlife rehabilitation area.
Kaplan sees locals and visitors using the area for fishing, swimming, surfing, kiteboarding, windsurfing, standup paddleboarding, scuba diving, bird watching, stargazing, wintertime seal and whale watching, dining, enjoying live music and just sitting and watching the sunrises and sunsets.
The educational components, he says, will include coastal studies to complement and enhance the program at Cape Hatteras Secondary School of Coastal Studies, bird and marine biology, wildlife rehabilitation and exhibits that would highlight the island's commercial fishing industry and the current commercial fishing issues. And he says that there might be satellite exhibits from the Graveyard of the Atlantic Museum.
The ocean center, now a 501(c) 3 non-profit organization, in late April closed on property on northern edge of Hatteras Village, between the Sea Gull Motel and the Hatteras Cabanas, that will be the site of the pier. The Coastal Ecology Education Center will be very close, south of the Stowe on Twelve shops.
The ocean center also has an eye on three pieces of property to the west of the pier site and on the soundside of the highway. If the board is able to purchase that property, it will be used for walking, launching kayaks and canoes, a skate park and the educational component of the center, including a nature education and research center, classrooms and environmental education exhibits.
Since the first of the year, Kaplan has been talking with islanders, community leaders, politicians and business owners to tell them about the ocean center and secure their support and input.
He's built a web site for the ocean center and you can follow its progress on Facebook and Twitter.
He's also been lining up possible grants and loans and meeting with local, state, and federal agencies to get the zoning and permits that will be needed to the ocean center built.
Ocean center representatives in February met with state agencies at the Washington, office of the Department of Environment, Health, and Natural Resources to talk about the permitting that will be necessary for the pier and pier house.
"The meeting was well attended," Kaplan said, "and the overall consensus was that it is a worthy project. They raised no red flags and said to keep on moving forward."
Plans are already underway for an Environmental Assessment and wetland delineation for the properties involved.
Kaplan has been working with the National Park Service since last year, and Cape Hatteras National Seashore superintendent Mike Murray has said that he is supportive of the project.
Dare County commissioners have also been supportive of the center. Though they have not promised financial support, they promised support in other ways, such as getting the permits and zoning changes that will be needed.
In addition, he met with the Dare County Tourism Board to talk about possible grants. Kaplan is seeking $655,000 from the restricted fund and $277,500 from green spaces fund to help pay for the anchor properties.
He said he got no promises but that "nobody laughed, no one threw me out of the room."
And, in March, Kaplan got the support of the board of directors of the Cape Hatteras Electric Cooperative to seek a U.S. Department of Agriculture Rural Development grant.
He has also been researching foundations, and, so far, he says he has been told that the Nora Roberts Foundation will be supporting the center, though he doesn't know at what level.  The popular novelist owns three houses in Frisco.
"We have momentum and credibility," Kaplan said, and next up on his list is designing the pier house. He's working with an architect and he wants a building that will blend in with the character and atmosphere of Hatteras village.
The pier house, he says, has been limited by CAMA to 10,000 square feet – a 5,000 square foot footprint and no more than two stories.
Kaplan sees the pier house providing a large event space for such things as wedding receptions and parties, a casual sit-down restaurant, some walk-up food concessions and a tackle shop.
And his current plan is to build the pier house first and use revenues from rentals to fund the fishing pier.
He's estimated the building will cost about $2 million, and the pier $2 million to $5 million, depending on whether it is wood or concrete.
"At this point, to be financially viable, without a very major donor, the pier is most likely going to be wood," he says.
He knows some people would much rather see the pier built first, but he says he doesn't see how to do that and get a loan from a bank to build the pier without showing that the cash flow is there to make payments.
His plan now is to use the cash flow from the event venue and other shops to build the pier.
However, he says, if the right economic conditions or donors came forward, he could see doing the pier first.
"By design," Kaplan says, "the pier house will not be competing with other village businesses….It will be an extension of the existing businesses…It will be complementary and not competitive."
He says a Hatteras village restaurant owner has expressed interest in opening a second restaurant at the pier house and that the owner of a seafood market would be interesting in selling steamed shrimp and other steamed seafood.
"I don't see how it could be going any better than it is," Kaplan says.  "I think of all the things that could have been obstacles, and they haven't been."
He's keenly aware that there is some resistance, which he says has been inevitable but "minimal."
And he wants to hear from folks who think that the project is too big for Hatteras village and will ruin the coastal fishing village atmosphere or those who worry that the pier house might be built and nothing else.
Everyone wants to see the pier and all of the recreational and educational aspects of the ocean center, including Eric Kaplan.
This story is provided courtesy of The Island Free Press, an online newspaper serving Hatteras and Ocracoke islands. Coastal Review Online is partnering with the Free Press to provide readers with more stories of coastal interest.