Last of two parts
WILMINGTON — There are numerous environmentally sound solutions to power washing boats. Some are relatively expensive, and some relatively cheap.
Alan Rusher, owner and operator of Specialty Boatworks near Wilmington, has a system that in 2010 was deemed by the state as meeting all environmental standards. It was developed, sold and installed by Clean Marine Solutions, a Wilmington company owned and operated by David Flagler. The Vanish 300 system captures copper and other metals and treats them; the metals end up as a dry precipitate that can be disposed of as non-hazardous waste and the water is clarified, disinfected and recycled. The system takes up only about 25 square feet of space and is about 7.5 feet tall.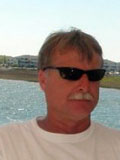 Alan Rusher
Rusher said he spent $40,000 to $50,000 altogether. The Vanish system was only $14,280. The rest of the total was for the engineering and design of Rusher's straddle-lift finger piers and his reinforced concrete wash-down pad, Flagler said.
Flagler and his company benefited from a 2009 N.C. Green Business Fund grant, which enabled extensive testing and refinement of the system. The grant also provided money to develop a power-washing compliance template that laid out for marina and boatyard owners what they needed to do in order to bring their operations into compliance. Flagler in 2008 began submitting drafts of the template to Charlie Stehman, the division's environmental program supervisor.
"Charlie gave us very helpful advice on how to tailor the template," Flagler said. "One of the issues was the degree to which our system could remove toxic metals from boat wash wastewater. Copper is typically the metal of highest concentration in boat-wash wastewater. Certified test results established that treated wastewater from our VANISH 300 Wastewater Treatment & Recycle System contained less copper than the EPA's requirements for drinking water."
Flagler said Rusher agreed to buy the system if he and Clean Marine Solutions could work together to obtain the permit.
"We were successful beyond our dreams," Flagler said. "Charlie performed an onsite inspection at Specialty. Alan received a letter within a week that his facility had been 'deemed permitted' and would therefore not be required to obtain a T2 permit. He was good to go."
"T2" refers to the often lengthy technical review required before a permit is issued.
"Charlie told us that the granting of T2 "deemed permitted" status was unprecedented at the DWQ," Flagler noted. "It saved Specialty considerable expense associated with the full T2 permitting process. Permit processing expenses for Specialty consisted of a first class stamp."
In applying for the Green Business Fund Grant, Flagler used information from studies by the N.C. Department of Environment and Natural Resources to make his case for funding. For example, he noted in his grant application that a 2007 department study of North Carolina marinas and boatyards said boat-wash wastewater can contain 69,000 times the level of copper allowed in discharge.
Flagler also quoted a letter he received from Dr. Mark Fonseca, an ecological scientist and researcher at the National Oceanic and Atmospheric Administration laboratory in Beaufort.
Fonseca, writing not for NOAA but as an individual scientist, stated that, "Discharge (of boat yard pressure wash wastewater discharge) is toxic to marine life; virtually everything we eat directly can be harmed or will accumulate these heavy metals. Moreover, primary producers such as algae and submerged aquatic vegetation (SAV) greatly concentrate these metals and biomagnifies their accumulation in the food chain (e.g., migratory waterfowl such as ducks and geese that are hunted and consumed utilize SAV heavily in their diet, creating the potential, as with shellfish, for direct transmission to humans).
Flagler said Clean Marine Solutions was founded in 2008 specifically with the goal of offering affordable environmental compliance solutions for boat-wash wastewater regulations.
"We have helped some yards and marinas fulfill regulatory requirements at no charge," he said. "That 2009 grant from the North Carolina Green Business Fund helped us reach our goal. It's been very satisfying to watch marine service facility employees hold up a bucket of nasty wastewater beside a bucket of clarified water and brag that "This is what we are keeping out of the waterway."
He said it's important to note that a marine service facility can fulfill environmental regulations regarding boat-wash wastewater without purchasing a treatment system or obtaining the T2 permit.
"To help small boatyards and marinas, we have developed a very inexpensive manual treatment system that will not require a T2 permit," he said. "Compliance can be very inexpensive."
Flagler pointed out that a small marina that does not generate much wastewater can achieve compliance with almost no costs by constructing a shop-made containment pad to collect the boat-washing wastewater. The wastewater is then simply pumped into drums for a licensed waste hauler to remove.
But, he said, "Hauling costs are rising, and haulers are increasingly requiring certified lab tests of the wastewater before they will pick up each load. In the long run, haul-away only makes economic sense for small facilities."
Yet another option is a heavy-duty wastewater containment pad; the military uses them to collect wastewater from power-washing of tanks and trucks. Flagler's company is a representative for a firm that makes those, but they are relatively expensive; a 40-foot pad costs about $6,000, he said. Boats and vehicles can drive onto the pad from any angle. During the washing, a foam ring around the perimeter of the containment berm rises with the water level.
Another marina that tries to do things right is Dudley's, on the Intracoastal Waterway in Cedar Point in Carteret County. The business last year won a Pelican Award from the N.C. Coastal Federation for its efforts to safeguard the waters.
The company uses a tarp to catch the toxic anti-fouling chemicals that drip off boats when they are painted or power washed. The effluent is filtered and ends up in cisterns; the water is reused for washing.
John Dudley said the system isn't yet perfect, but it's better than many marinas do to try to tackle the problem. And he and John W. Dudley, his father and the owner of the business, believe the tarp, the cisterns a storm water catch basin that holds water from roofs and parking areas and a grassed buffer strip along the water are all important.
"All of this together helps keep the water clean," John W. said. "It's expensive, and there's no return on the investment – you can't charge people for it – but it's worth it to us. I've seen other places add on 50 cents on the bill for environmental fee – but we don't do that. I just feel like we have to do what's right. One person can't do it all, but I feel obligated to do what I can."