Things are a little different this morning for Mike Lee, a lifelong commercial fisherman who works the inshore waters of our northeastern coast. His wooden skiff slices through the tannic waters of the Roanoke River. White perch are languidly squirming along his boat's worn deck looking for an escape, and  double-crested cormorants are waiting patiently for whatever leftovers can be scavenged from the pound netter's harvest.
But today, there are other rummagers alongside – and they're not looking for leftovers.
Julie Harris is following Lee, looking for striped bass. A researcher at N.C. State University, she wants to implant them with sonic tracking tags. One of the principal investigators  in this three-year study, Harris hopes  to better understand the migration patterns and mortality rates of the iconic striped bass of Albermarle Sound and the Roanoke River.
Known colloquially as "rockfish," striped bass (Morone saxatilis) are "anandromous," meaning that they spend most of their lives in saltwater but migrate up freshwater rivers to spawn. The Roanoke River is one of the most important breeding waters for the bass, along with the Chesapeake Bay and the Hudson and Delaware rivers.
It's hard to imagine such a powerful, ocean-minded fish  weaving through the bends of the tea-colored Roanoke, but, nevertheless, they make the journey every year.  Harris wants to know more about those  migrations, while better understanding mortality rates.
Her project is being paid for with money from the state's recreational saltwater fishing license. Partnering with N.C. State on the project are the U.S. Geological Survey, the N.C. Division of Marine Fisheries and the N.C. Wildlife Resources Commission. Harris began work with Lee last year, in a mutually beneficial "fish for science" partnership.
Lee fishes with pound nets, an ancient fishing method that corrals fish through a maze of nets. They don't  kill what they catch. For Harris, they're perfect.
"This has been the most successful method we have found to collect in the Lower Roanoke," she said.  "We need all of our fish to be alive and healthy, which is exactly what you get from a pound net-harvested fish."
Although the coastal fish markets of the northeast coast rarely have dry floors, times have been tough for the estuary fishermen. Since 2000, the numbers of fish houses along the sound have taken a big hit because of development and fisheries regulations.
"I have nowhere local to take my fish," Lee said., "If I want to make any money, I have to haul my catch to Wanchese – and that's nearly 200 miles round trip. Having Dr. Harris here to buy our fish really helps us out during a tough time of year."
Ever since the moratorium on the river herring in September 2007, fishermen like Lee have struggled. According to a historical analysis by Joe Hightower, the other principal N.C. State researcher on this project, the 1996 landings of river herrings ended up comprising only five percent of recorded landings between 1880 and 1970.
This serious decline only ensured that the colloquial fishery of the Roanoke would have to go on without the herring. "Once the herring fishery was taken away, we weren't left with much else besides our rock, perch and catfish. The rest of the stuff in the river just isn't worth handling," said Lee.
Now, thanks to N.C. State, Lee is able to get premium market price for striped bass that he doesn't have to bother transporting and selling in Wanchese.
"Instead of selling striped bass around here for a lesser price, N.C. State will take my fish from my net for me for premium price," said Lee.
Harris and Tyler Moore, a research technician, are waiting this morning for  Lee to lift his  net  from the water. Once the culling of fish in the net begins, the striped bass are transferred to live wells on N.C. State's boat.
Moore and Harris perform the surgeries to implant the tags on the water underneath a cypress grove, working swiftly to ensure the fish are healthy upon release. "We've had very little mortality in the seasons I've been tagging," said Harris.
They anesthetize the fish and implant them with three tags.
Used in all sorts of aquatic organisms, the sonic tag is a thing of beauty. By outfitting striped bass with this special tag, scientists can better gauge the  real-time movements of the fish. The signal that the tags emit are picked up by stationary receivers at specific inlets and estuarine or river locations that recognize the tag numbers. The tag emits a signal every 30-90 seconds up to a distance of 200-300 meters. If a receiver is within range, the tag number is recorded with a timestamp.
The researchers implants another type of tag that is picked up by hand-held scanners at  fish houses and boat ramps to quantify recreational and commercial catch mortality rates.. A third tag is one that most fishermen are accustomed to seeing – a plastic tube that protrudes from the fish's body. Instead of the standard yellow state tag, Harris uses red ones. Anyone catching one of her tagged stripers is entitled to a $100  reward..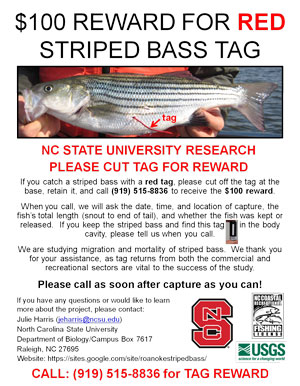 So far, researchers have implanted 150 sonic tags into Roanoke River striped bass. "We have had some really great data so far," said Harris, "We have been able to learn a lot about the migration timing of these fish, and how it relates to temperature."
Charlton Godwin, a biologist with the N.C. Division of Marine Fisheries, said Harris' study will be helpful in comparing historical striped bass migration data. Beginning in the 1950's, William Hassler of N.C. State conducted several mark and recapture studies on the striped bass. "With Dr. Harris' data, we will be able to compare Dr. Hassler's data as well as our own computer modeling and stock assessments to get a better idea of the fish, its numbers and migration patterns," said Godwin.
Aside from the invaluable scientific data that will be collected for such an economically-viable fish, Harris' study bodes well for fostering a continued relationship between scientist and traditional fisherman. And for Lee, the partnership with NCSU is a match made in heaven. "We look forward to it every year," said Lee, "NCSU has really helped us out."
 For more information about Roanoke River striped bass study, visit the Web site