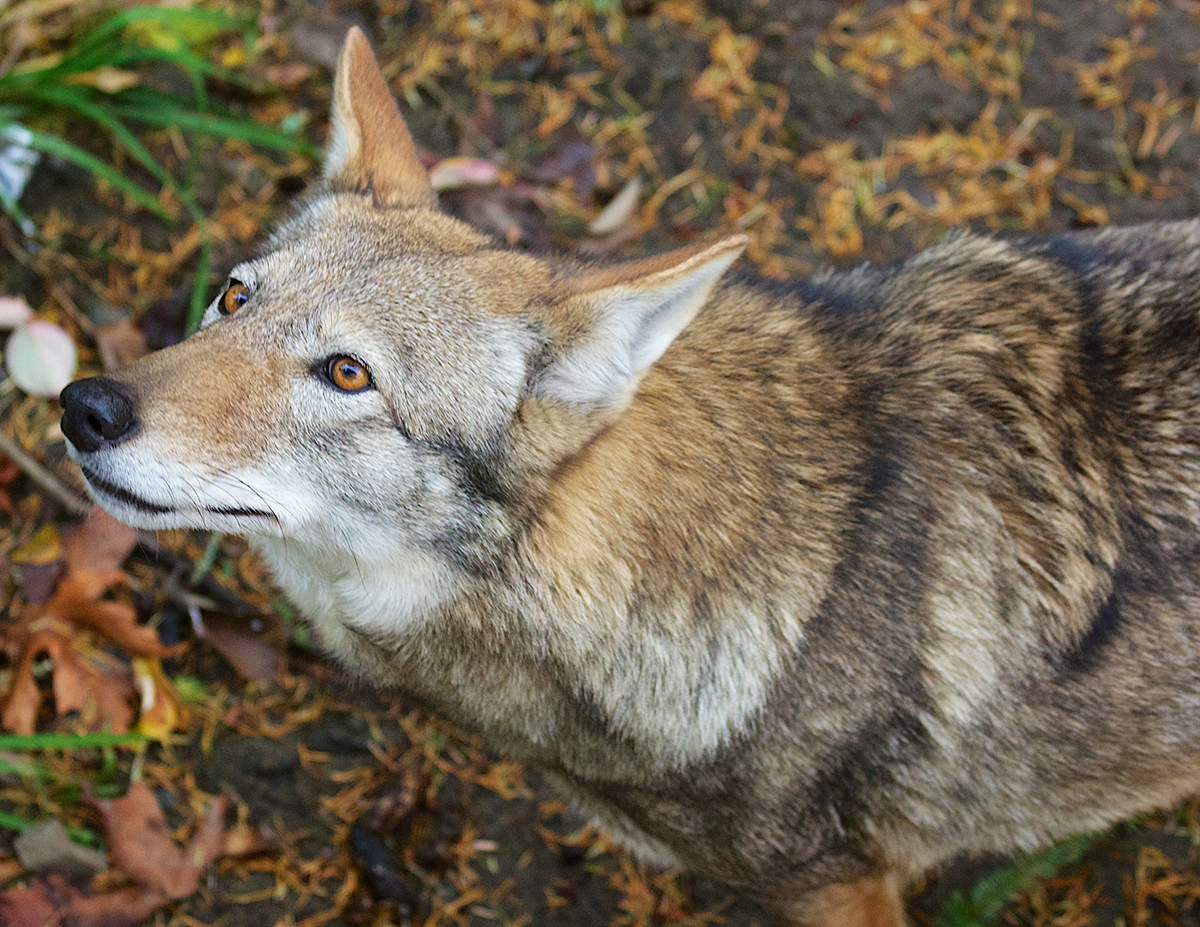 MANTEO — Survival in the wild finally looks more hopeful for the critically endangered red wolf, with federal wildlife officials holding a remarkably upbeat meeting this week to provide details of its revitalized effort to save the species.
In response to a court order to restore the population in the red wolf recovery program in northeast North Carolina, as well as agency changes by the Biden administration, the U.S. Fish and Wildlife Service announced during Tuesday's virtual gathering with numerous stakeholders that it will restore successful management tactics and add other protections to help the species thrive in the wild.
"We are committed, more than ever before, to working with our partners — the North Carolina Wildlife Resources Commission, landowners and other stakeholders — to identify ways to encourage and facilitate a coexistence between people and red wolves," Catherine Phillips, the service's assistant regional director in the South Atlantic-Gulf and Mississippi Basin Regions, said in a prepared statement. 
"The recent meeting allowed us to hear from the local community and stakeholders and to share with them what we are doing and plan to do going forward," she added. "We cannot recover the red wolf without them. We look forward to this new era of communication, transparency, and collaboration with our partners on this extremely important journey."
Phillips is filling the role most recently held by Leopoldo "Leo" Miranda, who is currently the Southeast regional director of the U.S. Fish and Wildlife Service.
One of the most immediate boosts will be the planned, court-ordered release of nine captive-bred red wolves into the wild before the end of winter. The sterilizing and releasing of coyotes, which hold territory from other, presumably fertile coyotes, has already been restarted. And as soon as the timing is right, the pup-fostering program, which involves sneaking near-newborn captive-bred pups into dens with wild pup litters, will resume.
"The service is revitalizing the whole red wolf recovery program — our commitment to red wolf conservation and building back success of the North Carolina population of red wolves," Emily Weller, the red wolf recovery lead based in Lafayette, Louisiana, said in an interview. "So this has us not only looking at past successes and challenges and using that to inform our actions moving forward … but we're also implementing innovative approaches."
It is a head-spinning shift for the agency, which has been on the defensive for the last 15 years or so, when decreased public and political support led to cuts in the recovery program. At the same time, there was a jump in wolf mortality from gunshots — whether accidental or intentional — as well as poisonings and vehicle strikes.
Meanwhile, the agency's combination of stalled, proposed or interim management and policy changes, accompanied by a series of lawsuits from conservation groups contending violations of the Endangered Species Act, rendered the remaining recovery program so controversial as to be dysfunctional and inadequate in protecting the species from extinction.
Once a prolific master predator that roamed a huge swath of the Southeastern United States, the red wolf, a victim of overhunting and habitat loss, was listed as endangered in 1973 under the act, and later was declared extinct in the wild. In 1987, Fish and Wildlife transferred four pairs of captive-bred offspring of a few wild wolves captured years earlier in Louisiana to the Alligator River National Wildlife Refuge in Manteo.
Today, only eight collared red wolves, and fewer than 20 red wolves without collars, still roam the five-county area in northeastern North Carolina, down from as many as 150. The 1.7 million acres are designated as what the U.S. Fish and Wildlife Service has categorized as a "nonessential experimental population of wild red wolves."  
Some innovative tactics to help decrease wolf mortality would include installation of road signs warning to look out for red wolves and making the wolves' tracking collars more visible to drivers, Joe Madison, program manager for the Red Wolf Recovery Program, told Coastal Review Thursday. Bright orange and partially reflective — just enough to be visible at night, but not so much that it would interfere in the wolf's hunting — the collars are also expected to help distinguish the red wolf from the similar-looking coyote.
It is legal to hunt coyotes, except at night in the wolf range, but, barring an immediate threat, it is against the law to shoot a red wolf.
Madison said that coyotes that have been sterilized and released will wear white or black collars. But since those coyotes can't breed, and because they're helping to control the population of coyotes, Madison said he hopes that people will see that it's better not to shoot them.
Fish and Wildlife is also working closely with law enforcement to look at compliance issues with bans on shooting red wolves, said agency spokesperson Jennifer Koches.
When they're released to their new home in North Carolina, the nine new wolf residents in North Carolina will include a family group and two breeding pairs, the agency said. They will be transferred from Species Survival Plan facilities, including the Endangered Wolf Center, the N.C. State University College of Veterinary Medicine, Rowan Wild, the Western North Carolina Nature Center and Zoo Knoxville.
To Perrin de Jong, North Carolina staff attorney at the Center for Biological Diversity, one of the groups that filed legal action against Fish and Wildlife over its red wolf management, the agency's turnabout and renewed focus on conserving the species was "a great surprise."
"It was quite impressive and quite a change in tone and pace than we've seen previously," he said told Coastal Review Wednesday. "I'm looking forward to seeing the red wolf program succeed again."