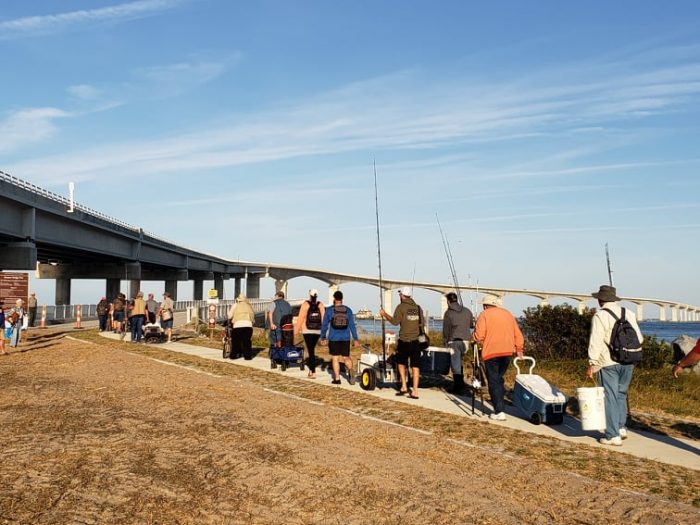 Reprinted from Island Free Press
The Bonner Bridge Pier opened to the public at 8 a.m. Friday, and roughly 20 visitors with fishing gear in hand were lined up to be among the first to fish off the pier.
"We heard that they have been waiting for at least an hour," said Michael Barber, public affairs specialist for the Cape Hatteras National Seashore. "This will be a great place to go fishing, but it's also going to be a great place to take a walk and sightsee – you can see the Basnight Bridge, the Bodie Island Lighthouse… and it will be an (ideal) spot for sunrises and sunsets."
The 1,046-foot concrete structure is a remaining section of the former 1963 Herbert C. Bonner Bridge, which was intentionally left intact to serve as an observation and fishing pier. Cape Hatteras National Seashore, U.S. Fish and Wildlife Service and North Carolina Department of Transportation worked together to open the pier to the public for recreational use that will be managed by the National Park Service.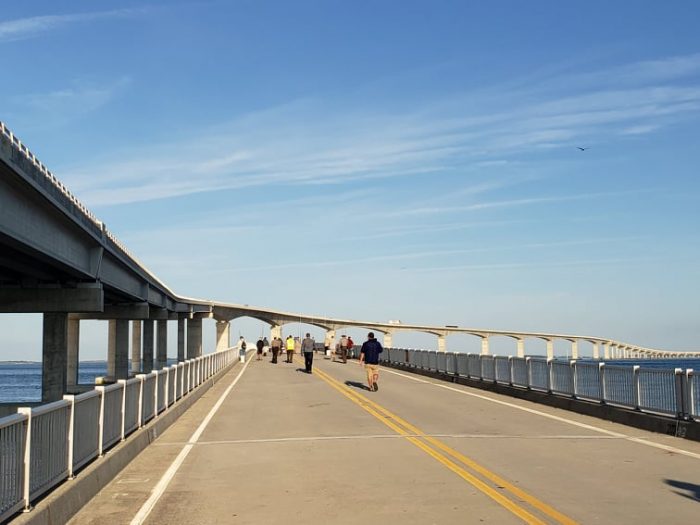 The original yellow double lines and patchwork of past repairs remain on the former roadway, but the bridge section has been transformed to a pier with the addition of new railings, trash receptacles, signage, and an interpretive display at the entrance explaining the site's rules and guidelines.
By 8:30 a.m., more visitors had trickled onto the pier, and several anglers had already reeled in a few small catches.
John McDonald of Raleigh was among the first folks to reel in a fish from the Bonner Pier, a small seabass that he caught shortly after his friend, Matt from Maryland, reeled in a pinfish.
"We come (to the Outer Banks) about three or four times a year to go fishing, and we decided to try our luck down here," said McDonald, who has been a regular Hatteras Island visitor for a few years. "Before we even found out that the pier was (opening), we thought 'it would be great if they kept some of the old bridge open for fishing…' and then we found out that's exactly what they did."
The six-member Triplet family from Lenoir were first in line to visit the Bonner Pier, and they also had the youngest angler on the scene, 9-month-old Ava. "We're leaving tomorrow, and we heard about the pier opening last night, and that definitely changed our plans for today," said Virginia Triplet.
There is still some North Carolina Department of Transportation construction equipment at the site, due to continued work on the Basnight Bridge, which opened to the public in February 2019, replacing the original Bonner Bridge. But most of the equipment remaining is expected to be cleared in the coming weeks and likely by December. "They're already removing some of the cones (and equipment) now to make it easier to access," Barber said.
There is no fee to visit the pier, and the pier is now open to the public 24 hours a day. The site includes portable restrooms, a dumpster, and ample parking, although visitors should watch for continued construction activity and signage that indicates closed areas.
A valid North Carolina Coastal Recreational Fishing License is required to fish from the pier. Rules for using the new pier can be found at the entrance to the Bonner Bridge Pier and on Cape Hatteras National Seashore's Bonner Bridge Pier webpage.
This story is provided courtesy of the Island Free Press, a digital newspaper covering Hatteras and Ocracoke islands. Coastal Review is partnering with the Free Press to provide readers with more environmental and lifestyle stories of interest along our coast.