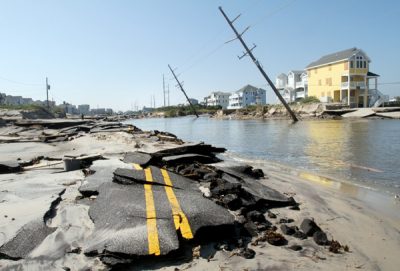 HARKERS ISLAND — A collection of historic and recent hurricane images will be featured in "Harm's Way," a Core Sound Waterfowl Museum and Heritage Center research project and exhibit that opens in June.
"Response, Recovery, Resilience" are the themes that will guide the exhibition highlighting Hatteras Island, Ocracoke and Down East Carteret County.
An interactive online timeline of storm history, starting with the storm of 1899, will feature archive photographs, oral histories, newspaper clippings and research from family collections, local libraries, state archives and federal agencies.
The museum needs volunteers to help research and locate materials for this exhibit project as well as photographs from families, organizations and local archives to be part of the exhibition.
The museum is particularly interested in recent photos to be used to document the changing landscape of coastal communities as residents ready for the next storm, reflected in changing building codes, elevating homes and local government preparation.
"In Harm's Way" is a joint project with Long Island Traditions, an organization that "documents and preserves Long Island's contemporary maritime and farming culture through the region" of Long Island, New York, where communities are documenting their own storm stories, in particular the response and recovery from Super Hurricane Sandy.
Each exhibition will compare and contrast traditional communities in both regions, exploring common practices, shared attitudes and cultural resilience in the face of these natural processes.
To submit storm photos, clippings, artifacts or ideas, contact Pam Morris at the museum at 252-728-1500 or museum@coresound.com.