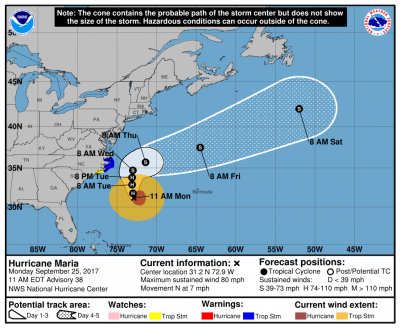 OUTER BANKS – As Hurricane Maria approaches the North Carolina coast, Gov. Roy Cooper in a press release Monday urged residents in coastal areas to complete their personal and home preparedness and to be alert to any changes in the storm's track.
The hurricane's forecast track shifted to the west over the weekend, meaning more significant impacts to North Carolina are expected.
"Heavy ocean surf will be very dangerous all week. Deadly rip currents will be present and some storm surge flooding is possible," Cooper said in a statement.  "Visitors to our beaches should stay out of the water during these dangerous conditions and wait until Maria passes.  Coastal residents should make sure they are ready and their homes are prepared."
Maria is currently a Category 3 storm, with winds of 105 mph. Maria's eye is forecast to remain about 100 miles off the North Carolina coast, but the storm's effects will be felt far from the eye, the release continued.
The National Weather Service issued a tropical storm watch Sunday evening from Surf City northwards to the North Carolina-Virginia border as well as Pamlico and Albemarle Sounds and a storm surge watch for 2 to 4 feet above ground level from Cape Lookout to Duck, including the soundside of the Outer Banks islands.
Maria's effects will begin to be felt Monday and will last through the week, with tropical storm force winds expected to arrive Tuesday.
On the heels of the governor's recommendations, respective county officials declared states of emergency for both Ocracoke and Hatteras and began Monday mandatory evacuations of visitors.
Also on Monday, the State Emergency Operations Center was to activate to monitor the storm and be ready to respond if needed. "This activation will include Emergency Management staff who will communicate with the counties and our State Emergency Response Team partners in order to allow us to provide any needed resources," N.C. Emergency Management Director Mike Sprayberry said in a statement.
The Dare County Control Group declared Monday a state of emergency for the county, issuing a mandatory evacuation for all Hatteras Island visitors effective at noon Monday, according to the county's website.
It is likely that roads will become impassable for extended periods and emergency response may be limited at the height of the storm. Motorists should proceed with caution, drive slowly through standing water, and stay off N.C. 12 during periods of high tide. Soundside flooding is also expected, particularly for the southernmost villages of Hatteras Island.
Officials in Hyde County also issued a mandatory evacuation order for visitors on Ocracoke Island, beginning at 5 a.m. Monday.
During a state of emergency, all North Carolina Department of Transportation ferry reservations are canceled and tolls are waived, according to Hyde County's website. Boarding the ferries will be on a first-come, first-served basis. Due to the temporary fortification in place after Hurricane Jose on N.C. 12, impacts may occur in advance of the storm. Officials recommend evacuating as soon as possible and utilizing the sound route ferries when evacuating. Based on current forecast holds, wind speeds could cause the suspension of ferry services early Tuesday morning, potentially making Monday night the last runs available.
Only residents, homeowners or vendors with an Ocracoke re-entry sticker on their vehicles will be allowed on ferries inbound to Ocracoke. Priority boarding will be suspended for all vessels leaving Ocracoke. For ferries heading from Ocracoke to Cedar Island or Swan Quarter, all reservations will be canceled and all tolls waived, according to a release from NCDOT.
"We encourage all Ocracoke visitors to leave as soon as possible Monday," said Ferry Division Director Harold Thomas in the statement. "We also encourage visitors to leave via Swan Quarter or Cedar Island if at all possible to avoid potential issues on N.C. 12 on Hatteras Island."
Evacuation procedures will remain in effect for all Ocracoke-bound ferries until Hyde County emergency officials lift the evacuation order.
In Carteret County, Cape Lookout National Seashore issued a mandatory evacuation order for the park, effective Sunday afternoon. The vehicle ferries began removing visitors and vehicles from the islands. The cabins will be closed on Tuesday.
Learn More