JACKSONVILLE — Harry Brown's workplace reflects his Jones County roots. One of two sons born to working class parents, Brown – a successful businessman and the majority leader in  the N.C. Senate – works out of a small, no-frills office along a noisy hall that extends from the sales floor of National Dodge Chrysler Jeep in Jacksonville to its service department.
Employees and customers traipse back and forth between departments; occasionally, one raps on the doorframe, offers a quick apology and shoves a document across the desk for Brown's signature.
Brown apologizes for the interruption, gives the document a quick once-over, signs and resumes his conversation at the exact point where he left off. He understands multi-tasking because keeping lots of balls in the air is what this businessman turned politician does best, but he said it's easier with the help of a loyal and committed staff.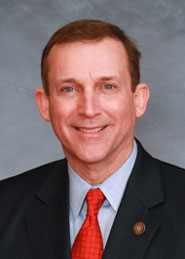 "The car business is truly a people business; I tell people that all the time," Brown said, adding that his two key employees have been with him for nearly 30 years. "We've kind of grown together in this business."
Brown, who has served four terms in the N.C Senate, became majority leader last session after Republicans wrested control of the N.C. General Assembly from their rival party after more than a century of Democratic domination. He is now the legislature's highest-ranking coastal politician.
A standout high school athlete, Brown set his sights on an engineering degree from N.C. State University, but ran out of money before graduating. He later went back to school and earned a Bachelor of Arts degree and a Master in Business Administration from Campbell University.
After leaving N.C. State, Brown returned to the coast and landed a job selling cars at Moore Buick Pontiac in Jacksonville, moving over to manage, and eventually own, National Dodge. He also owns a Volkswagen dealership in Jacksonville and is part owner of a Chevrolet dealership in Mitchell County.
Busy in Raleigh
When he's not at his car lots, Brown is usually in Raleigh, where he sits on numerous influential Senate committees. Brown is chairman of the Commerce Committee and co-chairs the committees on redistricting and public safety. He also is a member of the Agriculture/Environment/Natural Resources Committee, six other standing committees and over a dozen other committees.
Brown, 56, confesses to being a bit of a workaholic, but doesn't deny that he takes his hobbies almost as seriously as his profession. He collects sports memorabilia, squeezes in a round of golf whenever time permits and remains active in his church, Jacksonville's First Baptist.
Brown's grown son has assumed an active role in managing the business, which helps free up time for politics. Brown said that when the legislature is in session, he divides his days between Raleigh during the week and Jacksonville on the weekends.
The majority leader first became motivated to run for office when he served as president of the N.C. Automobile Dealers Association in 1999 and had a chance to spend time in Raleigh pushing for legislation important to the industry. "Small businesses in general just didn't have the representation they needed in Raleigh," said Brown.
Business growth in the state, he said, has been stymied by government, but the key isn't always the development of more rules and regulations. "It may not be as much the regulations but the interpretation of the regulations or the flexibility of interpreting the law when it comes to some of the rules," Brown said.
The lack of consistent interpretation is what frustrates sound development, he said. Brown said he knows of at least one case in which the developer of a 19-unit housing project near Jacksonville simply abandoned plans to build because of the shifting red tape.
"They were basically asked to go back and spend another $50,000 on stormwater regulations when they felt like they were doing the things they had been doing for years and the rules hadn't changed – it's just the person interpreting them had," he said.
Role of Government
Brown said that he thinks that government should play an active role in preserving and protecting natural resources in coastal areas. For instance, Brown said that he would support additional state funding for the N.C. Clean Water Management Trust Fund if money is available in future state budgets. Created by the legislature in 1996, the fund has invested more than $900 million in land and water conservation projects across the state, but its appropriations have been cut severely in recent years because of the state's ongoing budget woes
"I would… also support state parks taking over the acreage at Hammocks Beach because I feel the original owners of the land had hoped this would happen," said Brown.
Almost 300 acres adjacent to Hammocks Beach State Park near Swansboro have been subject of a complex and ongoing legal battle over a trust left by the land's owner. A judge has ruled that the state could take over ownership of the land.
Brown said that growing up in Eastern North Carolina has taught him never to take the area's environment or natural resources for granted, but points to the difficulty in balancing growth with environmental concerns.
"We've built some places we probably shouldn't have built, but that's already happened. Now we have to figure out how to move forward," he said. "Hopefully we can continue to find a good balance that allows for some growth, but control that growth in that it makes good sense and still protects the environment."
Brown has not proved friendly to pro-environmental legislation, said Molly Diggins, state director of the N.C. Sierra Club. While she lauds Brown for being "an approachable legislator," Diggins said her organization has been disappointed in some of his legislative advocacy. He, for instance, championed a bill that will allow hard structures, called groins, to be built along the state's beaches to control erosion.
"This session, Sen. Brown was a major player in advancing a measure that reduces protection for our beaches," she said.
Brown also backed several measures that "handcuff" North Carolina from implementing environmental protections that exceed federal requirements, Diggins added.
Low Environmental Score
Brown received some of the lowest overall marks recently handed out by the N.C. League of Conservation Voters in its 2011 legislative scorecard. The scorecard rates the individual performances of members of the N.C. General Assembly according to how each voted on selected environmentally sensitive bills.
Dan Crawford, director of governmental affairs for the league, characterizes the past session as one of the worst on record in regard to environmental legislation, especially when it came to budget cuts. "They took a chainsaw to the problem when they could have used a scalpel," Crawford said.
Brown deflects such criticism as one of the hazards of public service and enjoys the rough and tumble atmosphere of politics, but admits much of his enjoyment emanates from finding new challenges. He said he bores easily and wants what he does to make a difference.
"I like to think I'm a fixer," Brown said. "I'm not one who just goes along with things, and that's probably why I became majority leader. I'm very vocal and I tell people how I think we can fix problems. That's the way I've always been."
Brown's wife, Lisa, works for the Onslow County Clerk of Superior Court. He admits the couple has talked about his running for office beyond the state senate, but that's still somewhere down the road. For now, Brown prefers to concentrate on the tough business of running a state during an economic downturn.
"Being in business, you fix things quicker. There is a tendency in government to throw more money at something or study it when you already know it's a problem, instead of sitting down and really doing something to fix it," he said.
Asked for a self-description, Brown pauses. "(I'm) self-motivated. I'm a hard worker no matter what I do and I don't like to fail," he said. "I'm very competitive, but at the same time I think I can get along with anybody."