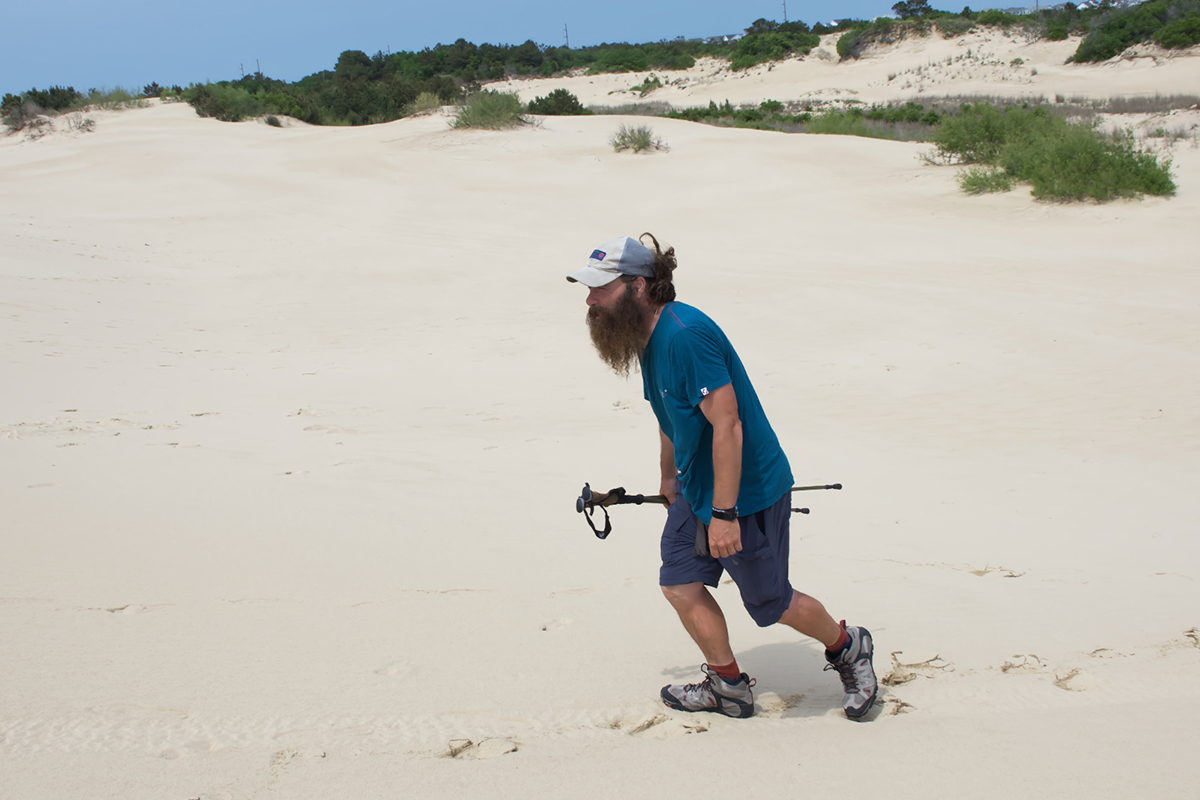 Reprinted from the Outer Banks Voice
A little over two years ago, "Trail" Marshall was drinking a 12-pack of beer a day, watching TV and not liking life all that much.
"I'd been watching TV and, everybody hated everybody. Everything was just so bad," he told a gathering who welcomed him as he completed the 1,175-mile North Carolina Mountains-to-Sea Trail May 6 at Jockey's Ridge State Park
So he decided to go for a walk … well, hike, beginning with the Appalachian Trail in June 2020. That was a 406-day adventure. With that behind him, his next goal was the Mountains-to-Sea Trail, bringing him to the eastern end of the trail at Jockey's Ridge State Park.
He spent an extra day exploring the Outer Banks, stopping by Kitty Hawk on Saturday to hike along the Kitty Hawk Woods Birch Lane Trail for about a mile, remarking: "I don't like swamp trails, but that was really pretty."
Marshall officially began his Mountains-to-Sea Trail trek at Clingmans Dome, 6,643 feet above sea level in Great Smoky Mountain National Park, just after the New Year. Five months to walk from the mountains to the sea through the heart of North Carolina is a good pace — particularly in the winter when snow changes everything.
"In the snow in the mountains, you're kind of in a haze where you're not thinking anything. You're going like that for hours. Once you finally get to where you're going, you look back," he said. "I saw some amazing ice formations in the trees … sunsets over mountains. And it's just so quiet out there and so peaceful."
As he hiked, Marshall found a very different reality than the one he had been watching every day — people were kinder and far more generous than what he had been witnessing on TV or the news.
"Along the way, there were so many good people, selfless people, people who had no reason to help. No reason to stop and give me a bottle of water, to stop and say, 'Hi, you inspire me,'" he told the people gathered to greet him at Jockey's Ridge.
Marshall began to chronicle his journey, writing eloquently about what he was seeing and experiencing. On his last full day, he wrote that, "I made the most of it with a beautiful 25-miles hike up the beach and around the Pea Island Wildlife Refuge and then over the terrifying, electrifying, stupefying, high-flying excitement of walking over the Marc Basnight Bridge. A three-miles-long masterpiece of art and function that traverses over the Oregon Inlet. Sheer terror for the first mile and then the terror subsided, and awe set in. What a lovely view! For miles … But can I expect anything less from the Outer Banks? The last 70 miles has been nothing short of spectacular!"
Kitty Hawk Town Manager Andy Stewart began following Marshall's journey, providing updates on his approach to the Outer Banks. Stewart mentioned that the Outer Banks Visitors Bureau had made a small donation to help Marshall along.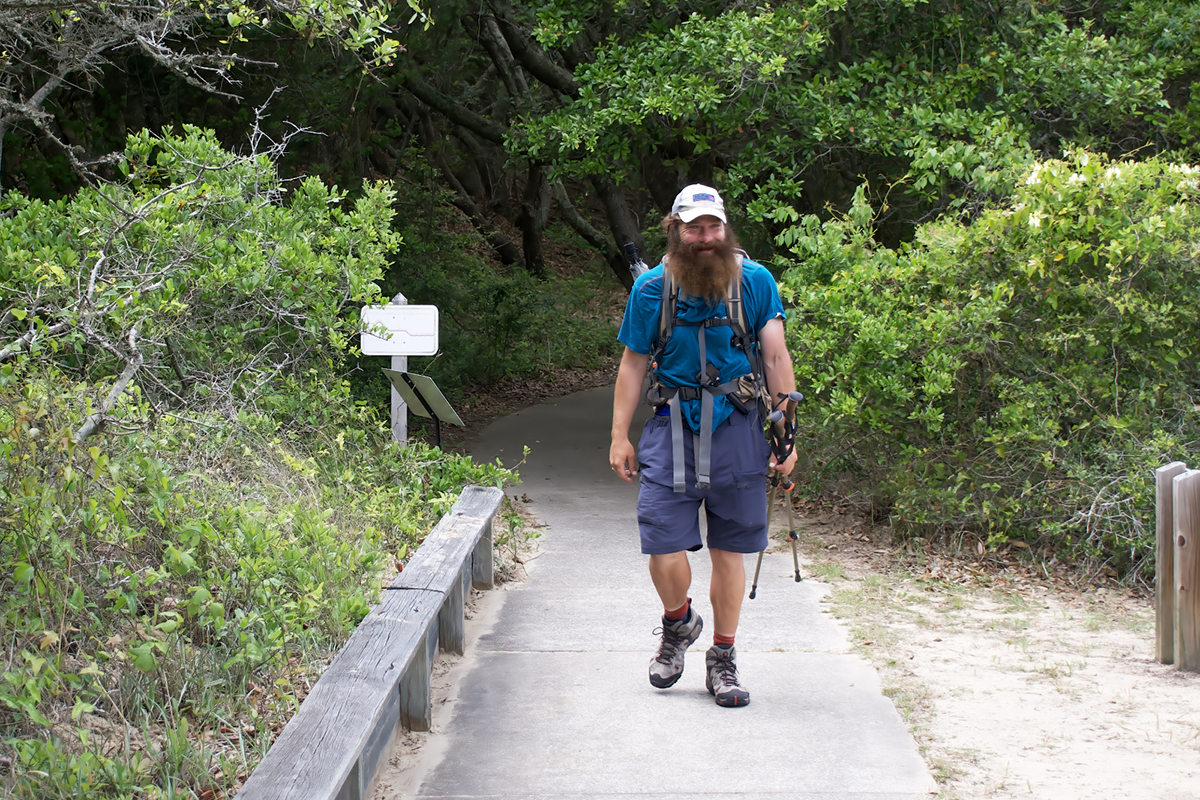 There was a small ceremony at Jockey's Ridge, when Nags Head Public Information Officer Roberta Thuman presented him with a Proclamation Honoring "Trail Marshall." And at a gathering on Saturday, Kitty Hawk Mayor Craig Garriss gave Marshall a Kitty Hawk baseball cap and a license plate, telling him he'd been following him for some time on Facebook.
It was Marshall's writing on his Facebook page that attracted attention from many people, more than 11,000 followers. And at Kitty Hawk Park, he became very emotional describing how he came to understand what his journey could mean to others.
"I get messages from people who are sick or dying," he said. "They just need an encouraging word from me to tell them to keep fighting. A guy sent me a message last night. He's having major surgery tomorrow. They're taking out his pancreas and a few other things. I've been telling him to keep fighting. I got a message last night, 'Congratulations on finishing your hike. I'm going to beat this just like you. I'm going to keep fighting.'"
"Everybody's got a story," he added. "If you take the time to just talk to them, they're more than happy to tell you what it is. Whether it's good or bad … sometimes the folks … just need something to believe in."
He discussed the why of his hikes and writing about his time on the trail at Jockey's Ridge and Kitty Hawk Park, and walking along the Birch Lane Trail, the subject came up again.
"People ask me why," he said. "The real question is, why not? It's a lifetime of reasons."
This story is provided courtesy of the Outer Banks Voice, a digital newspaper covering the Outer Banks. Coastal Review is partnering with the Voice to provide readers with more environmental and lifestyle stories of interest about our coast.