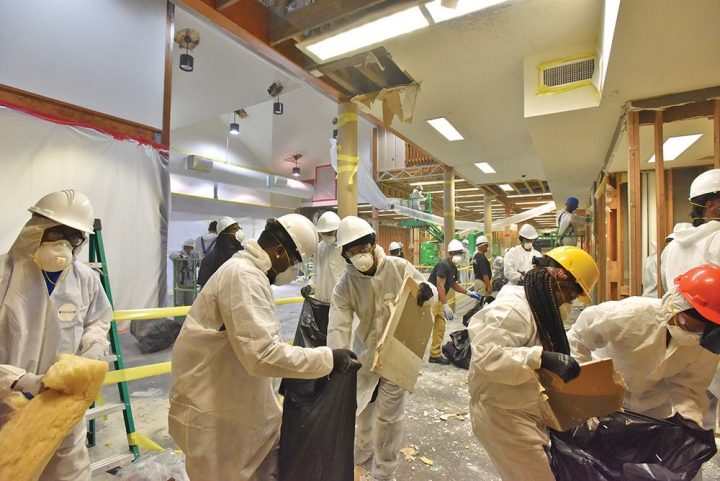 The Core Sound Waterfowl Museum and Heritage Center on Harkers Island is close to moving back into its facility after being displaced by damage from Hurricane Florence more than a year ago.
However, organizers didn't let the nearly gutted building stop them from hosting the annual Waterfowl Weekend the first weekend of December after Florence hit last year and aren't going to let it get in the way this year either.
The celebration set for this weekend brings together dozens of artists, carvers and crafters to showcase their work and also will give visitors a chance to see how much work has been completed over the past year.
Waterfowl Weekend kicks off with a preview party Friday night, followed by two full days of programming that celebrates the unique heritage of the little more than a dozen small, unincorporated communities that make up Down East Carteret County.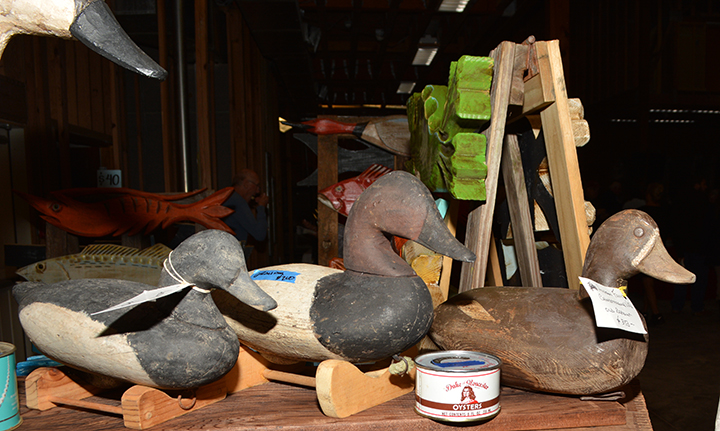 The cost of repairs to the 22,000-square-foot facility is in the millions. While none of the artifacts that filled the museum were harmed and are in storage, the building suffered substantial damage. The building needed a new roof and extensive repairs to both the exterior and interior.
"Giving for our 'Raise our Roof' campaign last spring exceeded our goal with more than $350,000 raised in private contributions and grants," Karen Willis Amspacher, museum executive director, told Coastal Review Online. "Our insurance came through so now we are taking the opportunity to make important improvements throughout the building. We really will be stronger than ever – and better prepared for the next storm."
Amspacher said Tuesday that overall, most of the repairs are more than halfway complete. The Education Hall is 80% complete, kitchen repairs are at 95% completion, the gallery is 60% complete and the offices are 80% complete. Additionally, mold remediation is complete, which totaled $1.7 million. The new metal roof is 98% complete and came in at $315,000. Siding repairs, which are 98% complete, came in at $50,000.
Inside the museum, which was stripped to the studs, estimated cost upon completion is around $750,000. The replacement of insulation, drywall and trim is 90% complete, the rework of electrical and HVAC system repairs are both halfway finished, window repairs are 75% complete and flooring in the kitchen is finished, about 10% of the total, but not in the rest of the facility.
Amspacher said the projected completion date for building repairs is early January, and they will begin moving back into the building as sections are complete. Projected reopening is April 2020.
She said the museum shop at 806 Arendell St. in downtown Morehead City has been a lifeline.
"That beautiful historic home in a prime location has helped us meet new people and offer not only the county's most local of local stores, but also art classes, a gallery and the perfect porch for visiting, carving and storytelling. We are very appreciative of the entire community's support of that location," she added.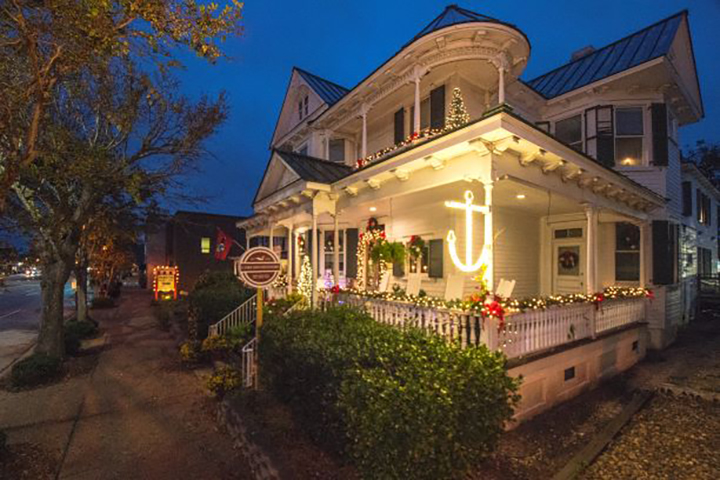 In addition to meeting artists, carvers and crafters from the region, attendees can hear some tall tales and fish house lies during Waterfowl Weekend.
Porch Talks in the Education Hall will start at 11 a.m. Saturday with Rodney Kemp, Chris Yeomans and others who will be "Remembering the Fish House Liars," a group of men who wouldn't let the truth get in the way of a good story. They will be followed at noon by Billy Merkley and Other Islanders who will talk "Boatbuilding, Fishing and More Lies," and at 1 p.m. folks will be "Remembering cold mornings and good people" and will talk duck hunting on Davis Shore and Core Banks.
Artist and storyteller Bob Timberlake will be on hand 2-4 p.m. Saturday "Sharing Memories of Duck Hunting on Core Banks" and hold a book signing.
There will also be book signings from noon to 4 p.m. Saturday with Nicky Harvey, creator of the Core Sound Crab pot trees, and with Barbara Dawn Guthrie Humphreys, author of "The Hearts of the Children" from 2 to 4 p.m. Saturday.
During the weekend, in addition to a museum filled with artists and crafters, there will be a silent auction, live auction, raffle for the 2019 "Storm at Sea" quilt and fresh seafood for sale. On Sunday there will be a worship service, and Community Day with East Carteret High School Band. The Marching Mariners Boosters Club will be selling food on Sunday to raise funds for the band's trip to Disney World. East Carteret High School's jazz band will perform on Sunday.
Original art, decoys, gift certificates, collectibles, jewelry and housewares will be auctioned online until 3 p.m. Sunday. Text "ww" to 843-606-5995 or visit the 2019 Waterfowl Weekend Silent Auction website to view items and bid.
You can bid now online for the items in the live auction that will begin at 5 p.m. Saturday. The heritage auction will feature more than 20 Core Sound decoys.
Robbie Smith, chairman of the heritage auction committee, offered his thanks on behalf of the museum to those who donated decoys, and others who helped make the heritage auction possible.
"The old working decoys from Core Sound are treasures and we are thrilled to offer these rare pieces at auction to benefit our museum. We are also excited to offer a few decoys made by carvers who are working hard to continue this rich tradition," he said in a statement.
Tickets for the Friday Night Preview Party are $75 each and can be purchased by calling 252-725-1500.
During the Friday night event, ticket holders can meet Timberlake and Harvey and will have the chance to get a sneak peek at the artists, carvers and crafters who will be on site during the weekend, hear live music by John Mason on the dulcimer and enjoy a wild game and seafood feast catered by Beaufort Grocery Co.
The menu will feature pimiento cheese, miniature twice-baked potatoes, hot Carolina crab dip, scallops wrapped in bacon, miniature Carolina crab cakes, sweet potato country ham biscuits, barbecue shrimp on grits or with crostini, tuna tartare, fried chicken and waffles, steamship round of beef with rolls and horseradish sauce, deer chili and the holiday dessert party baked by volunteers.
The fourth annual Janice Smith Memorial Champagne Decoy Competition will also take place during the kickoff event.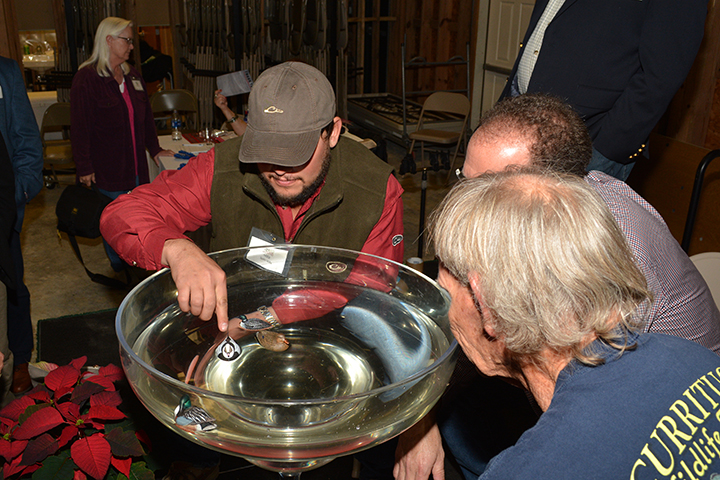 "Once again it is that time of year when the 'mini decoys become the mighty' at the Champagne Cocktail Class Competition and Auction on Friday night during this year's Core Sound Waterfowl Weekend," Monty Willis, president of the International Waterfowl Carving Association, which sanctions the competition, said in a statement.
"With this being the fourth year we are expecting more of the most talented carvers from around the country to participate in the competition where the mini decoys become one of the mighty attractions during the Waterfowl Weekend," Willis said. "Be sure to be there and help by showing your continued support for this competition and the Core Sound Museum."
Kathryn Smith Chadwick is a granddaughter of the competition's founder and, along with her family, a sponsor.
"This competition is something my grandmama, Janice Smith, wanted very much for Core Sound. She and my granddaddy had seen these tiny decoys at other shows and wanted us to have this special competition here. This is done in her memory in appreciation for all she accomplished for Core Sound and Down East," Chadwick said in a news release from the museum.
The drawing for the 2019 handmade quilt, "Storm at Sea," is at 3 p.m. Sunday. The quilt pattern, "Storm at Sea," reflects the destruction and recovery from Hurricane Florence, according to the museum.
The museum describes the quilt as depicting dark and stormy waters receding toward the bottom left, and to the right above, the sun breaks through. "More than just the sun, though, the bright batik colors around it represent the resilience, strength, and compassion of the people who withstood the storm, who joined together to clean up and rebuild, and who will always do so."