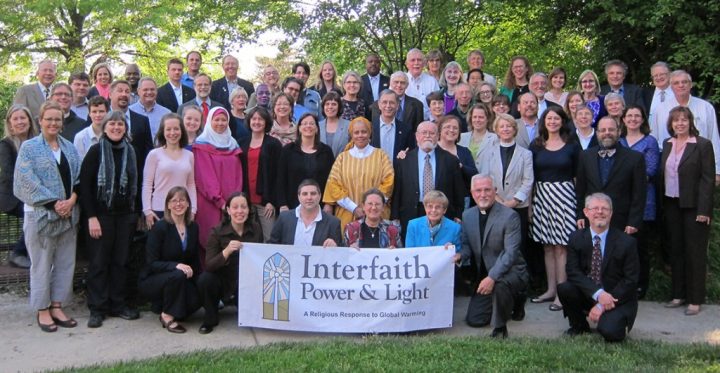 Not that long ago, chances are pretty good Interfaith Power & Light (IPL) was not a household name in many homes in North Carolina.
The organization began in 1998 with Episcopal Power & Light and the support of Grace Cathedral in San Francisco. It was, according to the website, "a unique coalition of Episcopal churches aggregated to purchase renewable energy."
By 2000, though, the idea had caught on and expanded its mission, at least in California, and the Episcopalians had brought in other faith partners. It was re-christened as California Interfaith Power & Light, and the concept grew to include efforts to "educate … people of faith about the moral and ethical mandate to address global warming." California IP&L helped pass California's climate and clean energy laws.
And like many things that start in California, it didn't just stay in the Golden State. There are now IP&L chapters in 40 states and Washington, D.C., and the 501(c)(3) organization has become a leading nationwide faith-based player in the climate change debate.
IP&L is now a part of more than 1,500 churches of various faiths,  and many thousands of people in them are involved in what they consider a moral imperative, perhaps the moral imperative, of our time: saving the planet.
One of those congregations is the Unitarian Coastal Fellowship in Morehead City, where member and leader Penny Hooper of Smyrna received a request in 2006 from a friend, Robert Meadows, an Episcopalian in Beaufort, for a venue in which to show Al Gore's movie, "An Inconvenient Truth." Ms. Hooper, who was a member of the Green Sanctuary Committee at UCF, helped set it up for viewing there, became increasingly involved, and came to believe, she says now, that people of faith not only can be involved in fighting for the country's efforts to address climate change, they must be, and can be among the most important players.
She's now chairperson of the North Carolina Interfaith Power & Light (NCIPL) Leadership Council.
"Every faith has as part of its basic tenants the responsibility to take care of creation," she said. She added there is that other basic tenant about taking care of the poor, who for a variety of reasons, tend to suffer the worst effects of a warming and a more unstable planet. As stated in the King James Version of the Bible: "Verily I say unto you, Inasmuch as ye have done it unto one of the least of these my brethren, ye have done it unto me."
Hooper's own faith, Unitarian-Universalism, expresses those things in a number of ways, including in its seven principles, two of which are:
The inherent worth and dignity of every person; and
Respect for the interdependent web of all existence of which we are a part.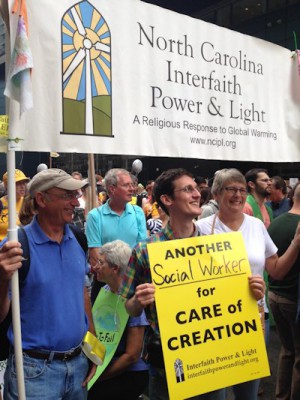 But, Hooper said, UCF is far from alone in its support of IP&L and its goals in North Carolina.
The North Carolina Council of Churches, founded in 1935 and now representing about 1.5 million congregants in churches of 18 faiths, has a link to NCIPL under the programs tab on its website. With urging from IPL, the North Carolina Council of Churches on Sept. 17 adopted an anti-fracking resolution that states, in part, that "… any new investment in energy infrastructure based on the extraction of fossil fuels is morally reprehensible and, as people of faith, we believe it is an abuse of the God-given gift of creation for which we are charged to care."
Why is this important to IPL, the council of churches and others?
"This goes to the fact that if we build all these pipelines, then we will be beholden to burn fracked gas for 30-50 more years, rather than moving towards renewable energy throughout our state and nation," Hooper said.
In that resolution, the council also states, "The Union of Concerned Scientists report(s) that burning fossil fuels shows us the visible cost to our ecosystem, but the hidden costs are much higher. Fracked gas is extremely dangerous. Besides being flammable, gas pipelines emit a significant source of methane emissions through leaks large and small, a material 84 times more detrimental to our atmosphere than carbon dioxide. No pipeline is … leak-proof, no matter the guarantees …
"Furthermore, we wholeheartedly disagree with the process of fracking because of the extreme detrimental effects to the environment where this process occurs. It has been well documented that irreparable damage is caused to drinking water and to the seismic stability of the earth when this technique is put to use."
What's needed for the future of the planet and future generations of its inhabitants, Hooper believes, is a true paradigm shift, and IPL is working toward that through education and programs. For example, there's, "Cool Congregations," in which IPL provides education and tools for churches, and individuals in them, to reduce their greenhouse gas emissions – and save money on energy bills.
Through a program known as "Cool Harvest" IPL will help churches learn more about climate-friendly foods that are also healthier than the diets of many people, and will teach people how to plan and create sustainable vegetable gardens.
IP&L and its member churches will also do energy audits for homes and businesses. They work with power companies, such as Duke Energy and Carteret-Craven Electric Cooperative, to bring in people trained to identify and help people implement energy-saving measures.
In addition, Hooper said, IPL is involved in lobbying, urging congregations to send letters, individually and as groups, to legislators who can make a difference in the effort to limit or stop carbon emissions that lead to climate changes.
Recently, Hooper penned a letter to U.S. Rep. Walter B. Jones Jr., R-N.C., thanking him for opposing oil and gas drilling and seismic testing off the North Carolina coast, but also urging him to join the House of Representatives Climate Solutions Caucus and sign on to House Resolution 195, which was started in September 2015 and has been supported by religious leaders who called for an interfaith moral "Call to Conscience on Climate Disruption."
Hooper said in the letter that the resolution was "a timely response to Pope Francis' address to the United States Congress following his release of his Papal Encyclical, "Laudato Si," written earlier that year. I also know that you understand the risk climate change poses to our military in the form of increased destabilization across our nation and world," she wrote. "Resolution 195 expresses the commitment of the House of Representatives to work constructively on creating and supporting economically viable and broadly supported solutions to measured changes in global and regional climates."
Another issue Hooper and NCIPL have been working on involves state House Bill 589, which was signed into law by Gov. Roy Cooper after being passed by a big bipartisan majority in the state General Assembly. While it imposed an 18-month moratorium on wind energy development, which jeopardized as much as $1 billion in new investments by two wind projects in largely rural and economically distressed counties in the eastern part of the state, it also updated the state's solar energy policy, and according to some, should make it easier for home and business owners to use solar.
Hooper and others deplore the wind energy moratorium. But she said she and NCIPL are working with Duke Energy to ensure that H 589 gets interpreted by Duke Energy and the Utilities Commission "with houses of worship in mind, as well as the environmental justice issues of installing new solar. We want to encourage putting solar in poor communities and in communities of color," she said.