Reprinted from the Outer Banks Sentinel
Several companies developing wind farm projects in northeastern North Carolina are taking a wait-and-see approach after Gov. Roy Cooper recently signed a bill with an 18-month moratorium on such projects, but then issued an order allowing "behind the scenes work" to continue during that moratorium.
In late July, Cooper signed House Bill 589 that contained good news for solar energy developers, including a competitive bidding process and a new solar leasing program. But it also contained the 18-month wind farm halt, a reduced version of a four-year moratorium that had been introduced by North Carolina Senate Majority Leader Harry Brown, R-Onslow.
Legislators say the moratorium is intended to allow time for them to more thoroughly study potential effects of wind turbines on area military facilities and operations.
To mitigate the effect of the wind moratorium, Cooper then signed an executive order directing the Department of Environmental Quality to continue recruiting wind energy investments and to "move forward with all of the behind the scenes work involved with bringing wind energy projects online."
"I want wind energy facilities to come online quickly when this moratorium expires, so our economy and our environment can continue to benefit," Cooper stated.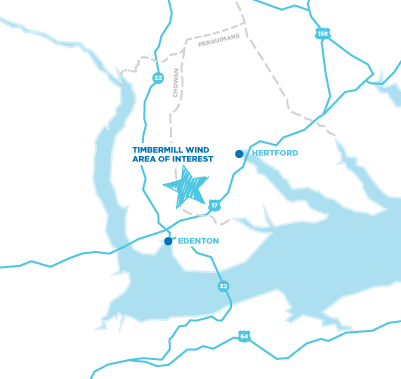 The Timbermill Wind project in Chowan County and the Little Alligator wind farm in Tyrrell County had been on track to receive all their needed permits within a year. The moratorium will delay that process until at least the end of 2018.
Kevin Chandler, Apex's senior manager of federal affairs, said the company is "disappointed by the moratorium. It is anti-innovation and anti-business, and the wind study proposed is unnecessary, given the level of state and federal review already required for wind projects."
But given "the [Cooper] administration's willingness to work with companies on permitting while the moratorium is in place, we anticipate continuing to explore options for Timbermill Wind," he added. "However, if the moratorium is extended or if the study leads to anti-clean energy zoning, we will reconsider that position."
The British energy firm Renewable Energy Systems, or RES, is developing the Little Alligator project. RES spokesman Scott Dunaway did not rule out continuing work on the project, but said: "RES must reassess the state's interest in our project and the risks associated with its development permitting."
Avangrid Renewables, whose $400 million Amazon Wind Farm project just outside of Elizabeth City is now in operation and will not be affected by the moratorium, was guarded in its response.
"With regard to HB 589, we remain focused on our onshore development in Perquimans and Pasquotank counties," said Avangrid Communications Manager Paul Copleman.
Early this year, Avangrid's project became fully operational, but only after a group of state lawmakers, including the legislative leadership, tried unsuccessfully to derail the wind farm by petitioning the Trump Administration to halt it, citing national security concerns.
Indeed, the assertion that wind farms could interfere with military operations, including radar facilities, has been frequently cited by those trying to halt such projects. During the attempt to stop the Amazon project, however, media accounts quoted Navy sources as saying it would not interfere with military operations.
There was no response to a request for comment for this story from the Navy.
But Rep. Bob Steinburg, a Chowan County Republican representing much of northeastern North Carolina, was a staunch supporter of the Amazon Wind Farm outside of Elizabeth City. Steinburg said he strongly opposed the moratorium.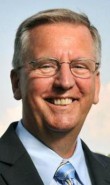 "There is no one anywhere in the military who has gone on record stating that they have any problems with wind energy," he said. Wind farm opponents are "using the military as a straw man … I am totally pro-military and I would never support any renewable project that was going to impede the ability of our military to function in any way."
Noting that the Amazon Wind Farm is located in his district, as are the planned project sites for the Tyrrell and Chowan counties, Steinburg said he is upset over the loss of badly needed revenue for Tyrrell and Chowan counties.
"Renewable energy is a foregone conclusion going into the 21st century and it will continue to grow and prosper," he added. "So we need to do all we can to encourage the consideration of all renewable energy as part of the overall energy policy for our state and our country."
Learn More
This story is provided courtesy of the Outer Banks Sentinel, a weekly Dare County newspaper that is published in print every Wednesday and headquartered at 2910 South Croatan Highway, Nags Head. Aside from the print paper, the Sentinel also produces a continually updated digital version at www.obsentinel.com.